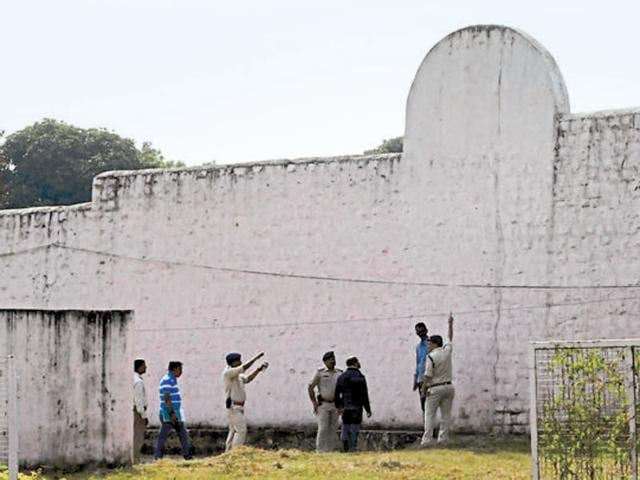 SIMI jailbreak: Planned over two months, executed in 45 minutes
The eight SIMI men gagged and locked up a warder Chandan Singh and killed another Ramashankar Yadav in two different sub-blocks of Block B of the Bhopal Central Jail.
Hindustan Times | By Anuraag Singh & Kalyan Das
, Bhopal
UPDATED ON NOV 04, 2016 10:49 PM IST
Investigating officers believe that the eight SIMI men, who were killed in an encounter on Monday, had planned their escape from Bhopal Central Jail over the last two months and executed it within 45 minutes early that morning.
According to the city police probing the jailbreak, it took just 45 minutes between 2 am and 3 am on Diwali night for the fugitives to make their getaway after murdering head warder Ramashankar Yadav and tying up another warder Chandan Singh.
According to Singh's statement, he and Yadav were on duty for the 2-6am shift at the jail's Block B, which has three sub-blocks A, B and C, each having six cells.
After reporting for duty just after 2 am, Yadav went to check sub-block A while Singh went into B.
Just as Singh went to check cell No. 19, he was caught by three SIMI men Aqeel Khilji, Amjad and Khalid, lodged in Cell Nos. 19, 20 and 21 respectively.
The trio forced Singh into cell No. 19 and tied him up with a towel and bedsheets after taking his whistle and gagging him with cloth, and locked the cell behind them.
Around the same time, Singh heard Yadav crying out in pain, and realised that his senior colleague had been attacked by other SIMI men in sub-block A. After some time, everything went silent.
Around half an hour later, at about 3.25 am, other jail guards who were on duty came to the jail's B Block and found Singh locked up and Yadav lying dead.
According to sources privy to the investigation, the statements of around 10 jail staff have been recorded.
The sources also said that kitchen utensils used to disappear regularly from the jail, but the authorities just noted them as missing and did not bother to check the SIMI men's cells as they were afraid of them. The jail officials also did not inform this to Jail headquarters, they said.
Also read: 'Surround, finish them all': Cops' alleged conversation on SIMI 'encounter'
Close