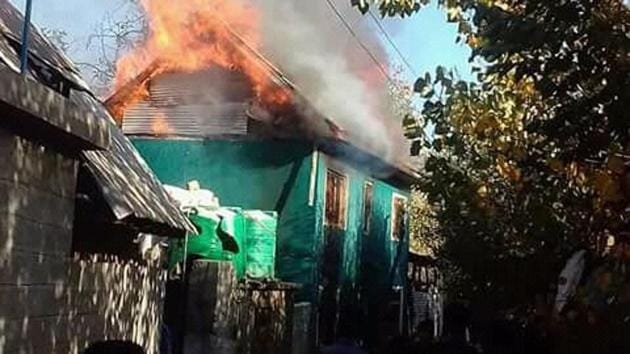 Slain PDP leader's house set on fire in Jammu and Kashmir's Shopian
According to local reports, militants had attacked the house of slain Mohammad Ramzan Sheikh after one of their men was killed in a scuffle with the PDP leader Monday night.
Hindustan Times, Srinagar | By Ashiq Hussain
UPDATED ON OCT 17, 2017 06:56 PM IST
A mob of 200 set ablaze the house of slain Peoples Democratic Party (PDP) leader on Tuesday, who was allegedly killed by militants Monday night at Humhuna in south Kashmir's Shopian district.
According to police officials, nearly 200 people attacked the house of Mohammad Ramzan Sheikh when his family and neighbours were mourning his death Tuesday afternoon.
"A mob attacked his (Sheikh's) house. We have unconfirmed reports that some militants were also with them. They set ablaze the house," said Shopian superintendent of police AS Dinkar.
Dinkar said the fire brigade reached a bit late as the house was isolated and had a narrow road to reach. "… There was no water nearby to douse the flames. The family was rescued but a portion of the house was damaged."
He did not comment why the people set ablaze the house but sources suggested that the people were blaming the family for the death of the militant, Shaukat Kumar, from Shopian.
According to the police, three militants had turned up at the PDP worker's house Monday night. As Sheikh's family resisted, one of the militants opened fire, which killed Sheikh and Kumar.
Local reports said the militant purportedly opposed the plan to kill Sheikh and wanted to only shoot his leg. The police, however, have not confirmed this.
Director general of police SP Vaid tweeted that the mob acted on the "instigation of terrorists". "Strong action under law is being taken against the perpetrators," he said.
Close