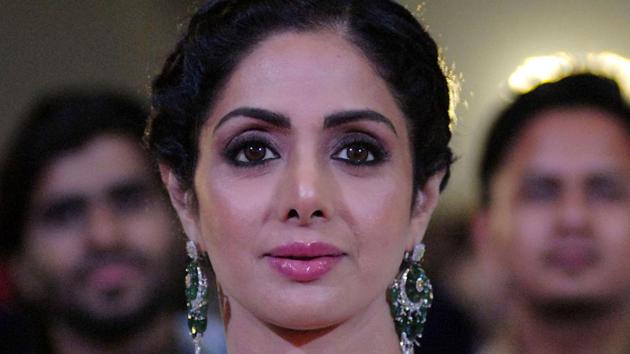 Sridevi's death stuns India to militants kill cops in Kashmir: Top stories of the day
Sridevi, Bollywood's top actress of the 1980s and '90s and India's first modern female superstar, passed away in Dubai. Two policemen were killed in a militant attack near Charar-e-Sharief shrine in Jammu and Kashmir.
UPDATED ON FEB 26, 2018 08:50 AM IST
Sridevi, Bollywood's top actress of the 1980s and '90s and India's first modern female superstar, passed away in Dubai. Two policemen were killed in a militant attack near Charar-e-Sharief shrine in Jammu and Kashmir. These stories made news on Sunday. Here is more about them.
Sridevi, India's first female superstar, dies in Dubai
Sridevi, Bollywood's leading lady of the 1980s and '90s who redefined stardom for actresses in India, died at age 54 in Dubai. She was known for her comic timing and her dancing skills and acted in more than 250 movies. Political leaders and entertainers posted condolences and recollections of her work, with many colleagues and fans expressing shock at her sudden death.
'New India' will have strong and empowered women: PM Modi
Prime Minister Narendra Modi said the country was moving from women's development to women-led development. He emphasised that the dream of a 'New India' was where women were empowered, strong and an equal partner in the nation's overall development. In his monthly radio address Mann Ki Baat, he said technologies like artificial intelligence must ensure the welfare of famers and the poor.
Policemen killed in militant attack in Kashmir shrine
Militants shot dead two policemen in two separate incidents in Jammu and Kashmir on Sunday. One of them was killed outside the historic Chrar-e-Sharif shrine in central Kashmir's Budgam district. A video being shared on social media apparently shows Constable Kultar Singh Singh fallen and bleeding, saying to the man holding the camera that he was shot twice and two men had snatched his rifle. Constable Farooq Ahmed Yatoo was killed when militants fired on him in Soura locality of Srinagar, officials said.
Misa Bharti's Delhi farmhouse a money laundering asset: Govt agency
A farmhouse owned by Misa Bharti, daughter of former Bihar chief minister Lalu Prasad, and her husband Shailesh Kumar is involved in money laundering and will continue to be seized by the Enforcement Directorate, a government agency on preventing money laundering has ruled.
China paves way for Xi Jinping to extend rule beyond 2 terms
China's ruling Communist Party has proposed scrapping term limits for the country's president, appearing to lay the groundwork for party leader Xi Jinping to rule as president beyond 2023. Xi, 64, cemented his status as the most powerful Chinese leader since Mao in the 1970s at last year's twice-a-decade Communist Party congress, where his name and a political theory attributed to him were added to the party constitution as he was given a second five-year term as general secretary.
MP student attempts suicide after BJP leader 'humiliates' father
A college student in Madhya Pradesh's Jabalpur city tried to kill herself by drinking poison after videos of her father being abused and humiliated, allegedly by a Bharatiya Janata Party (BJP) leader and his supporters, were posted on social media. Mohammad Shafi, the BJP's minority cell president in Jabalpur, said his supporters were playing a joke on the man.
Winter Olympics end; North Korea offers talks with the US
The overtly political 2018 Winter Olympics closed very much as they began, with athletes marching exuberantly across the world stage as three nations with decades of war and suspicion among them shared a VIP box. Senior North Korean official Kim Yong Chol, South Korean President Moon Jae-in and US presidential adviser and first daughter Ivanka Trump sat in two rows of seats behind the Olympic rings, meant to represent a competition of peace and international unity.
CBI registers Rs 109-crore loan default case against Simbhaoli Sugars CEO, MD
The Central Bureau of Investigation (CBI) on Sunday registered a case against Simbhaoli Sugars Ltd and its top executives for causing a loss of Rs 109 crore to state-owned Oriental Bank of Commerce (OBC).
Nokia 8110 slider phone is back; Samsung unveils Galaxy S9
HMD Global has revived its slider phone Nokia 8110 which was launched back in 1998 at the Mobile World Congress. The new Nokia 8110 is a 4G feature phone carrying a price tag of €79 which is about Rs 6,300. It will be available globally starting May. Samsung unveiled smartphones with largely unchanged designs and incremental improvements such as a better camera — accompanied by a second annual price increase for many customers.
Close