Stray incidents of stone-pelting in J-K, curfew imposed in parts of Srinagar
Some stray incidents of stone- pelting were reported from various parts of Kashmir on Friday even as curfew was again imposed in parts of Srinagar district and restrictions were put in place elsewhere in the valley in view of call by separatists for a march to the local UN office.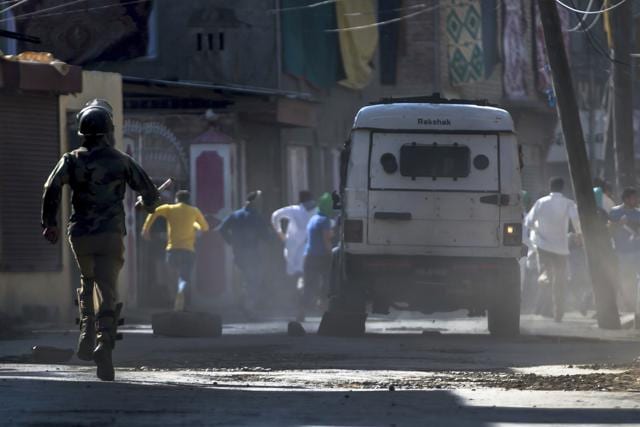 Updated on Oct 08, 2016 12:19 AM IST
Curfew and restrictions were imposed in many parts of capital Srinagar to thwart a protest march called by separatists towards United Nations office in Srinagar.
Residents said that a 12-year-old boy was seriously wounded in his head after security forces allegedly used force during a protest in the city. He was admitted in Sheri Kashmir Institute of Medical Sciences (SKIMS) in serious condition where doctors said they were ascertaining whether he was hit by pellets or a bullet.
The valley witnessed sporadic protests and shutdown on the 91st day of unrest which was triggered by the killing of Hizbul Mujahideen militant Burhan wani on July 8.
Curfew was imposed in areas coming under seven police stations of the city including Khanyar, Rainawari, Nowhatta, Safakadal, Maharaj Gunj, Maisuma and Batamaloo.
"The restrictions were also imposed in Sonwar to prevent people from marching towards UN office," said a police official.
Vehicular and pedestrian movement towards the UN office in Sonwar was also restricted.
Hardline Hurriyat Conference led by Syed Ali Geelani mailed a memorandum to the United Nations Military Observer's Group in India and Pakistan (UNMOGIP) wanting the intervention of the world body to solve the Kashmir issue.
"Since we believe and understand that Kashmir dispute remains at the centre of the regional conflict, we appeal you to challenge the behaviour of Indian State in Jammu Kashmir and urge it to stop this reign of terror. In the interests of regional peace and global justice we once again implore you to intervene and prevail upon the Indian state to shun violence and initiate processes for granting universally recognised Right to Self Determination to the people of Jammu and Kashmir," the memorandum read.
A large number of Police and CRPF were deployed in the city laying road blocks and installing concertina to block the mass movement of people. The separatists had urged people to move en-masse towards the UN office demanding right to self determination.
Friday prayers were not held in the Jamia Masjid for the 13th Friday owing to the restrictions.
However protests erupted in Saidepora area of Eidgah in old city prompting the security forces to fire tear gas shells and pellets. Residents said that a 12-year-old boy, Junaid Ahmad, was injured in the clashes.
Medical superintendent SKIMS Dr S A Tabish said that the boy had a serious head injury. "We are not sure as yet that whether the injury is due to pellets or a bullet. That will become clear after CT scan and other investigations. We are trying to save him," he said.
Protests and clashes between youth and security forces were also reported in some areas in northern districts of Bandipora and Baramulla.
Kashmir has been on boil since the killing of Wani with routine pro-freedom and anti-India protests. As many as 88 persons have lost their lives and over 10,000 wounded in clashes between youth and security forces.
Police have arrested hundreds of youth with many booked under controversial public safety act to contain the situation in the Valley.
All the separatist leadership including Syed Ali Geelani, Mirwaiz Umar Farooq, Yasin Malik and Shabir Shah have either been under house detention or in custody.
The joint separatist leadership has extended the latest protest calendar to October 13. They have urged students to organise day-long 'Resistance Convention' on Saturday.
The students have been asked to "educate yourself and others about the Indian occupation alternate history, freedom struggle and real heroes of Jammu and Kashmir".
The separatists have also urged people to occupy all the roads leading to "your respective police stations" on October 10.
Close Story
Personalise your news feed. Follow trending topics