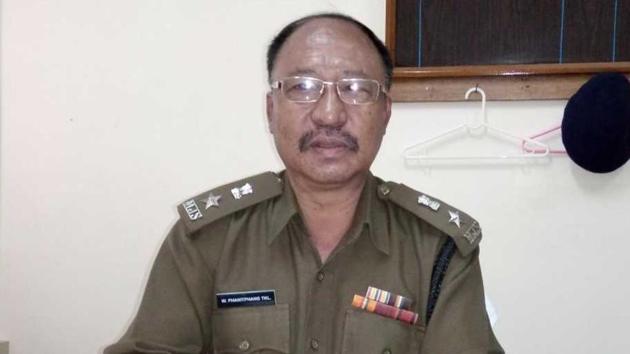 Stuck in Manipur jail for 5 years, Rohingyas seek UN help
Caught entering India illegally in 2012, Mohammed Hussain's term expired six months later. But the Myanmar government is reluctant to accept him and 13 others.
PUBLISHED ON NOV 22, 2017 12:14 PM IST
Mohammed Hussain was 19 when he was caught entering India illegally from Myanmar in February 2012.
His term expired six months later, but the Myanmar government's reluctance to accept him and 13 others made him spend five years more at the central jail in Sajiwa here.
Hussain fled Rawayungdaung village in Myanmar's Rakhine state when the violence was sporadic. "I want freedom but I have no place to call home," he said.
He wants to stay back in India as refugee, as do six others who had crossed over with him. Among them is Salamatullah, from Alichong in Myanmar's Buthidaung district. "They killed my father and six brothers. I wonder if I am lucky to have survived," said the 35-year-old, yearning to meet survivors of his family in Bangladesh.
The narrative is similar for seven more Rohingyas caught sneaking in later. They want to be either sent to Bangladesh, where they can hope to meet whoever survived the carnage in Myanmar, or taken to a refugee camp in Delhi.
"The Manipur-based Human Rights Law Network has helped us register our jailed brethren in Imphal with the United Nations High Commissioner for Refugees here, but things are moving slow. We have been told to wait till the Supreme Court gives a decision in a case related to the refugees," Nizamuddin, chairman of Rohingya Refugee Committee told HT from New Delhi.
Nizamuddin said there are about 17,000 UNHCR-registered Rohingya refugees in India, including some 2,200 in various jails such as Sajiwa.
"I am not sure how the Indian government got the 40,000 figure, making our case more complicated," he said.
Officials in Manipur said they would be more than happy to let the Rohingyas go.
"The Rohingyas are among 22 foreigners in our jail, which has 807 inmates against a capacity of 720. Moreover, we are not getting funds to manage the jail since April this year. We are forced to keep them here as the Myanmar government has refused to accept them as their citizens," W Phanitphang, superintendent of the 105-acre Sajiwa jail told HT.
The other foreigners include 37-year-old Chinese national Tian Mingchung, who was caught under the Foreigners' Act for entering India without documents. He was found loitering near Imphal airport in June.
"We have not been able to get any information from him because of the language barrier. We know he is from Henan in China, but we are still in the dark about how he came to India," Phanitphang said.
The officials hope to get some information from Mingchung through Saithunwin, a tribal prisoner from Chandel district who happens to know Mandarin.
"I learnt a bit of the Chinese language from my mother, who is from China. But Mingchung is difficult to talk to. The extra bit I know about him is that he practices Buddhism and had been to Lhasa, Bodh Gaya and Mandalay before landing up in Manipur," Saithunwin, lodged three months ago on a case under the Narcotic Drugs and Psychotropic Substances Act, said.
Among the oldest of Sajiwa's 807 prisoners is Muthu, who calls himself Madrasi.
He was lodged in Sajiwa in March 1994 for beheading his seven-year-old son, the fourth among his six children.
"God made me sacrifice someone I loved most, and it was God who sent me here (jail)," he said.
Yangon-born Muthu, 42 when he was arrested, was among a few hundred Tamils who settled down in Moreh, a town bordering Myanmar, seven decades ago. He ran a ration shop that had a temple dedicated to Lord Karthikeya within.
"I have no regrets for what I have done. I was just following God's order," he said.
Close