Summer woes: Heat wave kills, but only 9 states have an action plan
Jun 01, 2017 11:04 AM IST
Only nine of the country's 29 states and seven union territories have drawn up heat action plans (HAP) to deal with the killer weather.
Temperatures are soaring but India may not be best prepared to face the heat wave that has killed more than 6,000 people in the past four years, officials say.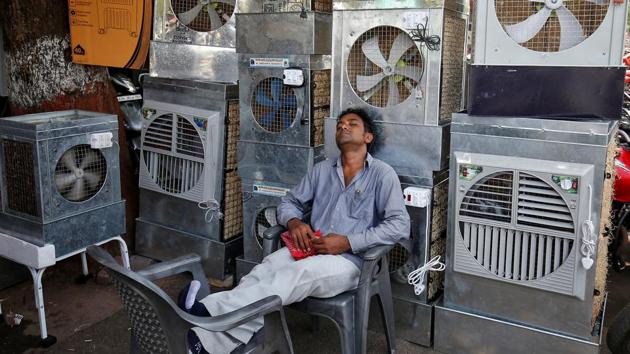 Only nine of the country's 29 states and seven union territories have drawn up heat action plans (HAP) based on guidelines of the National Disaster Management Authority (NDMA).
The absence of a plan could prove deadly. "These plans play an important role in ensuring better preparedness and timely intervention, thus bringing down the number of deaths and illnesses during the heat wave season," Dr V Thiruppugazh, joint secretary (policy & plan), NDMA, told HT.
But it is for the states to draw up their own plans, taking into account their demography, traditional knowledge and available resources.
"We have sent a responsibility matrix to states on how to counter heat wave-related problems. But finally it's up to the states to chart out their own plans and implement them," Thiruppugazh added.
However, only Andhra Pradesh, Telangana, Odisha, Gujarat, Maharashtra, Jharkhand, Karnataka, Bihar and Haryana have shown urgency and got their plans in place.
Their plans include establishing an early warning system and inter-agency coordination, training healthcare professionals, public awareness, collaboration with non-government and civil society groups and improving water delivery system among others.
"We developed HAP after looking at the number of people killed by the natural disaster in 2014. The NDMA also took into account the threat of climate change and inputs from IMD," Thiruppugazh pointed out.
It is not mandatory for states to work upon NDMA's suggestions, and most have been lukewarm in their response till date, though heat killed 1,111 people in 2016 and more than 2,400 the previous year.
Temperatures this season are hovering over 40 degrees Celsius and below the 45 degree mark, that qualifies it to be officially declared a heat wave. But that is no consolation.
"While it is difficult to predict, there could be two or three spells of heat waves in the coming weeks," said Dr Devendra Pradhan, a scientist with the India Meteorological Department (IMD).
Knowing that the coming months could be hotter, the NDMA is updating its HAP that would include mechanisms to identify critical spots in cities and how to contain the impact of heat on animals as well.