Constant hype around operations unwarranted, says ex-Army officer who was part of surgical strike
Updated on Dec 08, 2018 12:29 PM IST
Gen Hooda was the Northern Army commander when the surgical strike were carried out on September 29, 2016 across the LoC as a response to a terrorist attack in Uri earlier that month.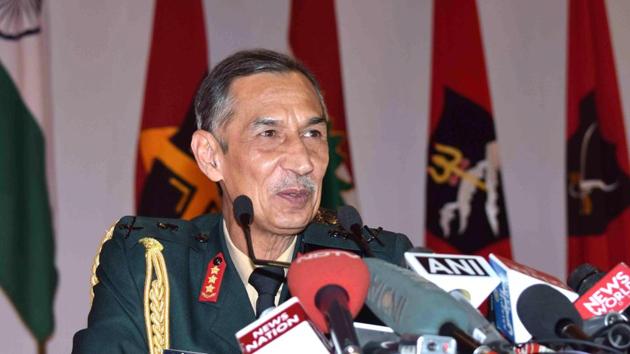 Chandigarh |
Manraj Grewal Sharma
The military leadership must guard against becoming a tool in the hands of politicians. We can't take military action to suit someone politically," Lt Gen DS Hooda (retd), the Northern Army Commander at the helm of surgical strikes in September 2016, said, adding that though the action needed publicity to boost soldiers' morale, the excess hype and political one-upmanship around it was uncalled for.
The veteran was moderating a session on the "Role of cross-border operations and surgical strikes" on Day 1 of the Military Literature Festival organised by the Punjab government at Lake Club in Chandigarh on Friday.
Ruing the political colour given to the action, Col Ajai Shukla (retd), a defence analyst, pointed out that the strikes helped the Modi government burnish its nationalistic image and gave the Bharatiya Janata Party (BJP) a thumping win in the Uttar Pradesh elections.
The panellists, all former army officers, underlined that cross-border operations are a common form of retribution on the Line of Control. Col Shukla recounted how after the Kargil intrusions were discovered in 1999, Indian troops raided a Pakistani post, killed 12 soldiers and brought back a visitors' book signed by Gen Pervez Musharraf.
Lt Gen Hooda said the attack on the brigade headquarters at Uri that left 17 soldiers dead was the trigger and their aim was simple. "Terrorists had been targeting military installations since the end of 2013... Walking with the army chief through three inches of ash at Uri, we were clear that we had to go across." The plan received the go-ahead from none other than the Prime Minister and the national security adviser.
Also read | Don't mix army and politics: Gen who led surgical strike
Publicity, Lt Gen Hooda said, was essential at that time. "We were being told that you can't protect your soldiers, it was vital to boost the morale of our soldiers." But the excess hype, he admitted, didn't help. "There were selective leaks to the media, and too much political banter around it."
Lt Gen NS Brar (retd) pointed out that strikes of this magnitude must achieve a higher strategic objective which these didn't. Calling them a glorified "ghatak" (lethal) attack, Shukla wondered if it was "all political gamesmanship only directed at the UP polls".
The panellists were unanimous that it would be fatal to politicise any military act. As Brar said: "A question that bugs me is that what if we had some casualties, some prisoners, would the powers-that-be have taken ownership?"
He warned: "Military action initiated to win an election is very dangerous."
Hooda agreed: "It's for the military leadership to resist being used by politicians."
Later, when asked about Lt Gen Hooda's statement, army chief Bipin Rawat said, "These are an individual person's perceptions, so let's not comment on them.He was one of the main persons involved in conduct of these operations, so I respect his words very much."
Read | UPA did 3 surgical strikes but didn't show off: Rahul Gandhi