Sweet paradox: India's drought-stricken farmers plant thirstiest crop
Updated on Oct 19, 2016 04:12 PM IST
Despite pleas from the government not to, Indian farmers like Santosh Wagh went right back to planting sugar cane as soon as the first nourishing monsoon rains brought water to his drought-stricken region of central India.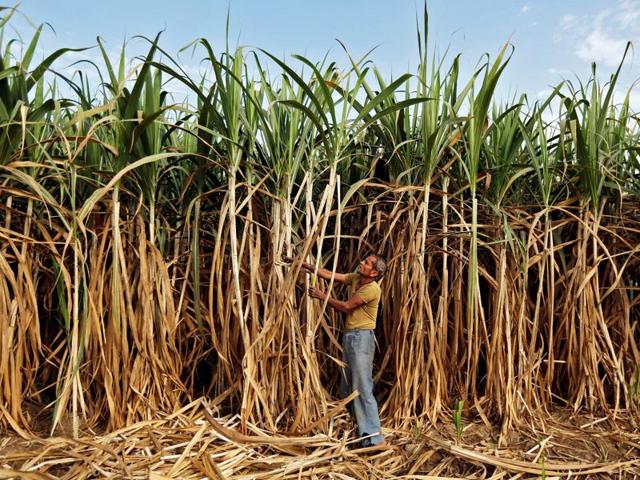 Despite pleas from the government not to, Indian farmers like Santosh Wagh went right back to planting sugar cane as soon as the first nourishing monsoon rains brought water to his drought-stricken region of central India.
For growers like Wagh, a 35-year old from the Marathwada region in the west of Maharashtra, sugar cane has two attributes that make planting the crop lucrative - hardiness and state policies that ensure higher returns. These farmers sow the cane even as its outsized water demands relative to other crops threaten to plunge this traditionally arid region back into a drought.
"It is the only reliable crop. Earlier this year I cultivated onions and incurred a 50,000 rupees loss as prices crashed," said Wagh, who plants 1.5 acres (0.6 hectares) of sugar cane.
Four months ago Maharashtra, the biggest sugar producing region in India, suffered the worst drought in four decades that ravaged crops, killed livestock, depleted reservoirs and slowed down hydroelectric power output.
Environmental activists and the government blamed the rapid expansion of sugar cane growing for creating the water scarcity. Cane consumes about 22.5 million litres of water per hectare during its 14-month long growing cycle compared to just 4 million litres over four months for chickpeas, a pulse, commonly grown in India and called gram locally.
Without government intervention to reset the revenue balance in favour of other crops, experts warn the sustained production of sugar cane will further deplete scarce water resources and leave the region prone to droughts. This could create social unrest stemming from the widening income gap between cane growers and other farmers.
"The government asks farmers to shift to less water consuming crops, but it does little to support those crops. It failed to solve the problems of oilseed and pulses growers," said Pradeep Purandare, a former professor at Maharashtra Water and Land Management Institute based in Aurangabad.
Erratic prices for vegetables, oilseeds and pulses limit the incentive for farmers to plant them.
In contrast, the government requires sugar mills to buy cane at a set "fair and remunerative price" (FRP). The government also buys wheat and rice at what is called the minimum support price (MSP).
"Returns from other crops are unpredictable. This year I allowed 5 tonnes of onions to rot. Prices were so low that my losses would have increased by transporting onions to the market," said Suresh Kothawale, another Aurangabad farmer.
India's government hopes higher subsidies for pulses and oilseeds will change farming patterns.
"We are creating oilseeds and pulses as an alternative for sugar cane by raising their minimum support prices," said a senior official at India's Agriculture Ministry who declined to be named.
But industry critics said the pulse and oilseed MSP only exists on paper as the government never procures them aggressively like wheat or rice.
"Green gram prices were trading below support prices due to higher production. This makes the support price irrelevant for farmers," said Nitin Kalantri, a pulses miller based at Latur in Maharashtra.
Hardy crop, political clout
The sugar mill buildup in Marathwada was initially pushed by politicians in the region trying to replicate the prosperity of mills in other areas of Maharashtra state and was focused on areas with plentiful water, said Jaidev Dole, a political analyst in Aurangabad.
"But later politicians opened mills everywhere, even in areas where drinking water is not available, to build a constituency rather than making farmers rich," he said.
Farmers sell cane directly to sugar mills, effectively getting 100 percent remuneration, but other crops pass through middlemen, ensuring farmers get half the price consumers pay, said Sanjeev Babar, managing director of the Maharashtra State Co-operative Sugar Factories Federation.
Sugar cane's sturdiness also attracts farmers because of limited access to insurance that protects against crop failures.
Mature cane withstands heavy rainfall or dry spells and is also less vulnerable to pest and diseases compared to other crops, said farmer Sharad Mate, who has lost pulse crops due to droughts and un-seasonal rainfall.
"I had taken crop insurance for pulses last year, but didn't get compensation despite losing an entire crop," said Mate, a farmer from Sillod, northeast of Aurangabad.
Close Story
Personalise your news feed. Follow trending topics