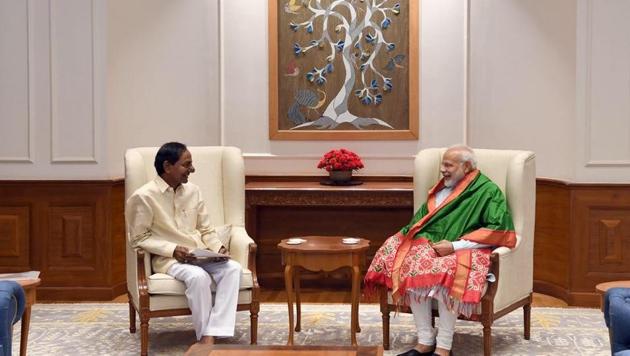 Telangana CM Chandrasekhar Rao meets PM Modi amid talks of early Assembly polls
Telangana Rashtra Samithi president and chief minister K Chandrasekhar Rao submitted a charter of demands to Prime Minister Narendra Modi in New Delhi on Saturday
UPDATED ON AUG 25, 2018 11:20 PM IST
Telangana Rashtra Samithi president and chief minister K Chandrasekhar Rao submitted a charter of demands to Prime Minister Narendra Modi in New Delhi on Saturday, a day after he told his party leaders in the state capital to get ready for early polls. The assembly elections in Telangana is slated with 2019 Lok Sabha polls.
The chief minister's office said KCR, in his 20-minute meeting with the Prime Minister, raised as many as 14 issues pertaining to the state, including nod for zonal system, release of Rs 450 crore for the development of backward districts, among others.
However, party sources in Hyderabad said KCR had gone to Delhi primarily to discuss with Modi the issue of holding early elections in Telangana along with other states like Madhya Pradesh, Chhattisgarh and Rajasthan in December.
Former chief secretary and advisor to the state government Rajiv Sharma also had a meeting with chief election commissioner Ashok Lavasa in Delhi a couple of days ago to discuss the possibility of holding the elections.
"If the elections to Telangana have to be held... the state assembly has to be dissolved in the first week of September. Unless there is clarity from the Centre on the possibility of holding elections in December, a decision cannot be taken on the dissolution of the House," said a senior TRS leader.
A sitting TRS MP, however, expressed hope that the elections to Telangana assembly could be held in December. "Our party is well prepared to hold the elections and is confident of winning not less than 100 out of 119 assembly seats," he said.
The TRS is organising a massive public meeting at Kongara Kalan on the outskirts of Hyderabad on September 2 to present the progress report of his government. Party leaders said KCR might make an announcement on the early elections at the public meeting itself. As if confirming the talk of early elections, the government announced a series of populist measures on Friday.
Close