The making of a standard protocol in gender care
Hindustan Times |
Dhamini Ratnam
Apr 20, 2018 02:01 PM IST
Need of the hour Healthcare providers have no guidelines on gender affirmative care and sex reassignment surgeries, says the transgender community. A look at one hospital team's initiative to counter this.
A day before Sameera Jahagirdar was wheeled in for her surgery at the Mahatma Gandhi Medical College and Research Institute (MGMCRI) in Puducherry, where she has been an anaesthetist since 2006, she finally wore a churidar kurta to work. On November 4, 2016, Jahagirdar sat on the other side of the desk, not as a doctor, but as a client. Not in a shirt and pant, but in a bright blue kurta, a white dupatta draped over her shoulder. "It was wonderful. I was so happy telling my colleagues that I will be undergoing surgery tomorrow."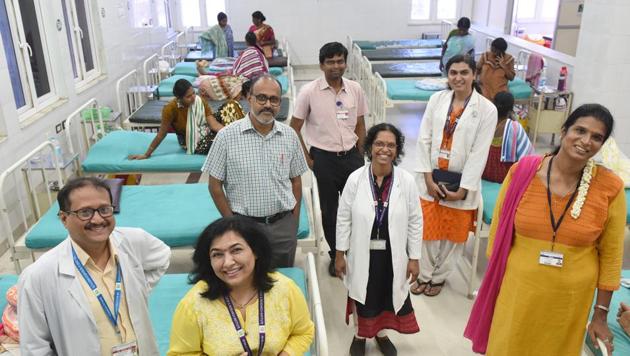 Jahagirdar, who turns 40 this month, is one of several people who has undergone Gender Affirmative (GA) surgery at this Puducherry hospital, which is run by a charitable trust and has a well-regarded teaching institute attached to it. Since 2010, thirunangais — the local transgender women community — have attended the transgender clinic that was started out of the department of Dermatology, Venereology and Leprology (DVL). Four years later, the hospital began to offer GA surgeries, alternatively known as Sex Reassignment Surgery (SRS), which helps align the body to the gender that a person identifies with. Two years ago, the hospital brought out an 'SRS Protocol', which was devised by Jahagirdar herself — she was the first to be operated under it.
Stay tuned with breaking news on HT Channel on Facebook.
Join Now
Jahagirdar consulted community activists, administrative officials and legal experts, and studied the World Professional Association for Transgender Health (WPATH) Standards of Care document, which offers a detailed understanding of surgical and non-surgical health interventions for transgender persons.
The WPATH is an international not-for-profit group that promotes an understanding of gender dysphoria — the discomfort or distress that is caused by a discrepancy between a person's gender identity and their sex assigned at birth (and associated sex characteristics). Gender dysphoria is listed in the diagnostic statistical manual of mental disorders, which is followed by mental health professionals the world over. The process of transitioning — or changing one's gender — itself is not uniform. It could involve hormone therapy, and/or different kinds of surgery, which are based on an individual's needs. It could also involve non-surgical interventions, such as laser treatment for hair removal, or chest binding. Generally, it is acceptable practice for surgeons and endocrinologists to ask for a psychiatric diagnosis of gender dysphoria if their client wishes to seek surgical and medical treatment for transitioning.
But dysphoria is not a sign of someone being inherently disordered — worldwide, experts are now considering changing the term to gender incongruence.
Jahagirdar recalls feeling the incongruence from the time she was a child, realising that she was not a girl only when she saw a cousin, who was a girl, bathing. However, it was only in her 30s that Jahagirdar opted for hormone therapy — shots of estrogen and progesterone — that feminise the appearance.
In 2016, she decided to undergo surgery. "SRS is not a simple one-time surgery. It requires all medical professionals involved to be non-judgmental, post-operative care, and proper pain alleviation. So it can't involve just one surgeon, but all the professionals who are necessary to make the process possible have to be on board," says Jahagirdar.
First step
She stitched together a 'Gender Care Team', which comprises a dermatologist, a psychiatrist, two general surgeons, an obstetrician, an anaesthesiologist (Jahagirdar herself), a legal expert, a community representative, Sheetal (who only goes by one name, and is the 'nayak' or head of the thirunangai groups in Puducherry), and the deputy medical superintendent of the institute Dr Swati Pawar.
The team is missing an endocrinologist. The protocol offers a five-step process: self-identification as transgender, psychiatric assessment, counselling by surgeons, psychiatric certification, and clearance by the anaesthetic department. It also provides prototypes of the legal documents necessary, such as a notarised affidavit confirming change of gender and a consent and waiver of liability form.
Since Jahagirdar's surgery, 70 more have been conducted on thirunangais from Tamil Nadu, kinnars from Chhattisgarh and Bihar, and hijras from Maharashtra. What's common to these clients is that all were assigned male at birth. Thus, these surgeries are referred to as Male to Female, or MTF, surgeries. Till date, the hospital has conducted only three mastectomies (breast tissue removal), but no hysterectomies (removal of uterus), or phalloplasty (construction of phallus) surgeries — all of which are part of Female to Male, or FTM surgical procedures.
HT met a group of seven thirunangis, associated with the local community-based organisation Sahodaran Community Oriented Health Development Society headed by Sheetal, all of whom had undergone surgeries at the MGMCRI in the past two years. "It's a bit of a bore. But it's good for us," laughed Bawadharini, a 27-year-old Puducherry local, referring to the number of visits to the psychiatrist and surgeon that the protocol has instituted. She added that she was unwilling to do the surgery before this because she was not sure if it was safe. The protocol offers a sense of protection, she said.
The protocol, which applies to both FTM and MTF surgeries, was submitted to the institute's ethics committee in August 2017. Dr Seetesh Ghosh, the gynaecologist in the gender care team said that he will not conduct any hysterectomy till the committee validates the protocol. "I need immunity: it's not that only the surgeon is responsible. The institution is responsible too."
Improving quality of life
For a doctor to conduct a hysterectomy on an apparently healthy female body of reproductive age requires a shift in perspective: Not all persons assigned female gender at birth are women.
If an adult transman approaches a doctor to conduct a hysterectomy, the decision does not need to be validated by parent, doctor or society.
A recent survey among transgender women found that GA surgery was an important factor in improving the quality of life. The study, conducted by urologists of the University Hospital at Essen, Germany, found that over three-fourth of the respondents experience strong, positive life satisfaction following the surgery.
While similar research has not been undertaken in India, a study that aims to map the discrimination that transgender persons face at the hands of healthcare providers in India is currently underway.
Kolkata-based not-for-profit Civilian Welfare Foundation (CWF), in collaboration with United Nations Global Youth Empowerment, began a project titled Health is Wealth in September 2017.
The study, which reaches out to 50 transpersons across the country, is part of this project, and is expected to be completed by July.
In the absence of any detailed national-level guideline on transgender health — an Indian Council of Medical Research task force was set up some years ago to create such a document, but emails to the medical body on the status of this remain unanswered — such empirical data would help dispel untruths and misconceptions that circulate among healthcare providers and policy-makers. Since current medical curriculum does not address transgender healthcare either, a guideline that mandates non-discrimination and situates surgical intervention within a broader scheme of healthcare provisions, is a must.
A 2014 report tabled by the expert committee of the ministry of social justice and empowerment emphasized the need to develop trans-friendly policies/guidelines to ensure barrier-free access to healthcare. Subsequently, the last seen draft of the Transgender (Protection of Rights) Bill 2016 promises to bring out a health manual in accordance with WPATH guidelines. But the bill, which is yet to come up in Parliament for discussion, has not laid down a timeline. The National Health Policy document released last year, also states that research on transgender health will be promoted. The ICMR did not respond to a query on whether any new research has been initiated on this subject.
Community efforts
In the past decade, a growing community of transgender persons and activists, and healthcare professionals have created guidelines for gender affirmative care in line with global best practices.
In 2011, a UNAIDS India-constituted working group prepared an interim national guideline on sex reassignment surgeries for Male-to-Female transgender people in India — the report was submitted to the National Aids Control Organisation.
In 2014, Dr Anindya Kumar Ray, a psychiatrist, helped formulate a protocol for the RG Kar government hospital in Kolkata, with the help of community-led organisations. Ray, who is now posted at the Malda Medical College, explained that the protocol was for Gender Transition Related Health Services, with provisions for psychological, medical/hormonal and surgical services. The team would have been multi-disciplinary, and the client would have availed of only those aspects of gender care that they chose. It never took off.
Last January, Sappho for Equality, a West Bengal-based organisation that works with lesbians, bisexual women and transgender men came out with a 'Good practice guide to gender affirmative care'. "There was no standard protocol being followed. There was a complete lack of information, and a lot of insensitivity on the part of the medical fraternity," explains Dr Ranjita Biswas, who compiled the document with a colleague with contributions from doctors across disciplines and persons from the transgender community. "We visited the Directorate of Medical Education who told us that it would be difficult to make the guideline part of the curriculum since medical students already have to deal with a huge syllabus," said Biswas, a psychiatrist.
Community members in Karnataka were a tad luckier with state officials. Last September, a national meet was held in Bengaluru on the socio-medical status of transgender persons in India, with particular emphasis on SRS.
The consultation was organised by the National Institute of Medical Health and Neuro-Sciences and transgender rights organisations Ondede and Swatantra. It brought state government officials together with medical and legal experts, community members and activists and made them commit to developing standards of care.
Protocol needed
Anush Datta, a 35-year-old transman born and brought up in rural West Bengal, underwent a breast reduction surgery in 2015. He spent ?70,000, and doesn't even have a bill (or a discharge certificate) to show for it. "I have no evidence that I underwent a surgery. The secrecy with which this whole thing was conducted put me at a great disadvantage."
Datta's disadvantage was compounded by the fact that there were no binding guidelines on the doctors he consulted. As a result, he was not asked for a certification of gender dysphoria from a psychiatrist. His prescription slip was never returned to him. He was given no post-operative care, either.
"The prohibitive costs make the procedures accessible to only those who have the privilege of affording them. For those who can't, the only remaining options are private, unmonitored set-ups with no accountability. Regular monitoring and redressal mechanisms have to be established to stem this," said the working group of Sampoorna, a network of trans and intersex Indians across the globe.
Today, Datta's story is more norm than exception, which makes MCMGRI's efforts to institute a protocol for themselves all the more significant.