There was no vandalism... we should have underplayed Tripura statue fall, says Ram Madhav
Mar 12, 2018 07:10 AM IST
The Bharatiya Janata Party's general secretary in charge of the northeastern states, Ram Madhav, has played a key role in the electoral success and expansion of the party in the region.
The Bharatiya Janata Party's (BJP) general secretary in charge of the North-eastern states, Ram Madhav has played a key role in the electoral success and expansion of the party in the region. The former functionary of the Rashtriya Swayamsevak Sangh (RSS) is an important channel between the Sangh and the party. Also the BJP's key man on Kashmir affairs and a political interlocutor with major foreign powers and neighbouring countries, he spoke to Prashant Jha on a wide range of issues. Edited excerpts from the interview: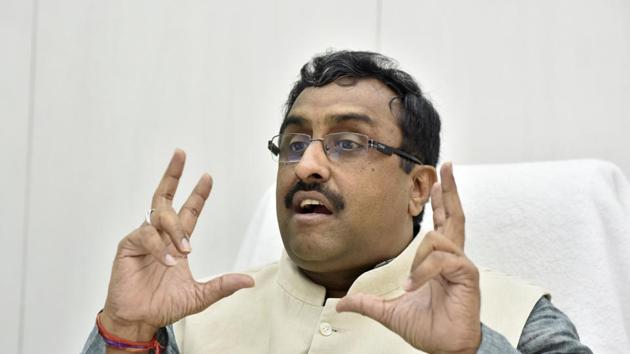 Three elections, three governments — what's behind the BJP's growth in the northeast?
Our victory is very satisfying. The win in Tripura is historic because we defeated an ideological adversary and our cadres are energised across the country. We are inching towards a three-fourths majority in the state. We have 43 of 58 seats already polled, and hope to win two more soon. In Nagaland, we won 12 of the 20 seats we contested. Our vote share is 16% from only these seats. This translates to 48% if we had fought across the whole state. Nagaland is almost a 100% Christian state and our rival ran a communal campaign to paint us as an 'anti-Christian party'. Yet, we did so well.
I would attribute this to three key factors. One, PM Narendra Modi's popularity — the northeast is hungry for development and he is seen as personifying that development. Two, our ability to build the organisation down to the grassroots — to every polling booth — in a limited period of time. And finally, the right strategy and tactics.
Many argue your growth in the region, because it is so sudden, is not organic. It has happened because the BJP is in power at the Centre. Many leaders from other parties have joined you. You are able to deploy resources and unleash a campaign blitzkrieg. And as power in Delhi slips away, you will lose these states.
I don't agree with this. It is too simplistic an analysis of a very complex political situation. Congress was in power at the Centre for 10 consecutive years. Yet it did not win power in either Nagaland or Tripura. So to say having Delhi automatically translates into a victory in these parts is just wrong. Even when we were in power earlier, we were not able to make any inroads into this region. As far as resources and campaign are concerned, we are a political party. Our main task is to contest and win elections. We are not a charity. And in this process, we will use every democratic method at our disposal to succeed.
In Meghalaya, while you got into government, the party won only two states. Why?
We won two seats and come second in another seven seats. We have about 10-11 percent of the vote which is sizeable. But we still have to do more organisational expansion. The political dynamics were different — we did not have an alliance partner. The Congress waged a massive communal campaign to paint us as anti-Christian. We will do a detailed review soon.
Doesn't winning two seats mean that the people rejected you? How can you then get into government?
Meghalaya rejected the Congress. That is the main message of the election. They came down from 29 to 20 seats. That is why, along with like-minded parties, we provided an alternative.
The Tripura victory was tarnished by the incidents of violence and vandalism. You put out a celebratory tweet after Lenin's statue was pulled down, and deleted it.
Let's first get the facts right. There was no — I repeat no — vandalism in Tripura. The statue was put up by private individuals. They decided to remove it. They got a JCB machine to do it. If you see the picture too, it was pulled down, not vandalised. There is no complaint, no FIR, no arrest. It is like removing a photograph in my house if I change my mind. But the repercussions were unwholesome in other parts of the country. The real vandalism happened elsewhere.
We should have underplayed it. When I saw there was scope for misunderstanding, I removed the tweet. BJP shall not support or sponsor vandalism of any sort.
All northeastern states (including Sikkim) have 25 Lok Sabha seats. What's your aim for 2019 from the region?
We have eight of the 25 seats at the moment. Along with our allies, we have 10. The situation is very conducive in all these states and we have governments in six of the seven states. We will be aiming for the maximum possible in 2019.
Is the next target Mizoram?
Definitely. Mizoram goes to polls at the end of the year and we will try to form the government there.
You handle Kashmir as well. In an interview to HT, the Centre's interlocutor Dineshwar Sharma called the recent violence a 'setback', said civilian killings must stop and asked security forces to show restraint. What do you think?
Of course. There must be no civilian killings in any part of the country. But we must remember that the army is walking on a razor's edge in Kashmir. They exercise restraint but certain incidents may take place. It is difficult to judge sitting in Delhi. We must give the benefit of doubt to the army, which is not there for any selfish reasons but to ensure safety and security.
But does the army need to devise better ways to respond to stone-pelting?
This debate is as old as stone-pelting itself. What we need to ensure is that the state is peaceful and stone-pelting stops. And we have been able to substantially reduce such incidents, except in a few pockets of south Kashmir.
The Sangh is having its Pratinidi Sabha. Many are interpreting it as significant in the run up to the 2019 polls.
Before the next elections, the Sangh will have another meeting in March next year. It is a mistake to see it from the political lens. The Sangh meet is on organisational, ideological and national issues. It is significant because, once in three years, there is a decision on the Sarkaryavah (general secretary). And Bhaiyyaji Joshi has been re-elected.
There is speculation that Joshi's re-election means that the Sangh would remain more autonomous of BJP's influence than would have been the case if someone younger had been appointed. Would that reading be correct?
Bhayyaji is a senior and respected leader of the Sangh. However assumptions about his re-election lack understanding about the functioning of the organisation. The Sarkaryavah is the first among equals. But there are several other important functionaries. Decision-making takes time but happens in a collegial manner. To think that if so and so changes, the Sangh's approach will change is a mistake.
Last time the BJP was in power, there were visible differences between the party and the Sangh. How are differences resolved now?
Differences do crop up on issues but there is a mechanism to address them. On issues like trade, economy, labour relations, the Sangh has organisations which have expertise and strong networks: their views are conveyed to party leaders and there is reasonably perfect coordination.
"Exciting news! Hindustan Times is now on WhatsApp Channels
Subscribe today by clicking the link and stay updated with the latest news!"
Click here!
Get
Latest India News
along with
Latest News
and
Top Headlines
from India and around the world