TN govt filed over 200 defamation cases for 'derogatory remarks' against CM Jaya
Aug 22, 2016 02:49 PM IST
Cases filed for reporting on CM's vacations, criticising govt for water scarcity
The Tamil Nadu government's critics have kept it busy and angry.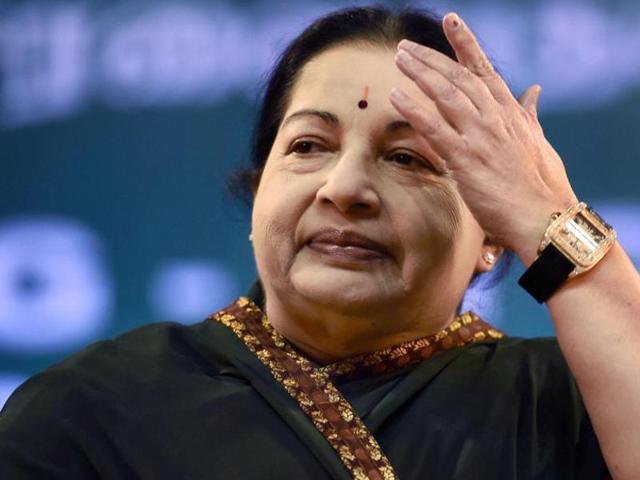 In the last five years, it has filed 213 defamation cases against political opponents and media houses for "derogatory statements" against chief minister J Jayalalithaa.
Reporting on the CM's vacations, criticising her government for water scarcity or not fulfilling poll promises have all been termed derogatory.
These details were submitted to the Supreme Court on August 17 that had on July 29 asked the Jayalalithaa government to give a list of defamation cases after one of the opposition leaders, DMDK's Vijayakanth, sought relief in one such case.
A large number of people are facing proceedings for making wild allegations against the chief minister, says the affidavit that lists cases registered between May 16, 2011 and July 28, 2016.
Read | Defamation law can't be used as political weapon: SC to Jayalalithaa govt
Opponents accuse Jayalalithaa of silencing critics and harassing them through such cases as an accused is expected to be present at every hearing. Arrest orders can be issued for missing a court date.
India is one of the few countries with both civil and criminal defamation proceedings. Punishment can vary from up to two years in prison or a fine or both.
Pulling up the Jayalalithaa government, a bench headed by justice Dipak Misra had said criticising a government as corrupt on unfit didn't amount to defamation,
Jayalalithaa is serving a sixth term as the chief minister after she was returned to office in May.
Fifty-five of the cases are against media, Tamil Nadu government's affidavit says. But, most of the ruling AIADMK's anger is directed at arch rival DMK, which faces 85 cases. For decades, the two parties have taken turns to rule the state and are bitter rivals.
Partner-turned-foe DMDK has 48 cases against it. Of these, 28 are against its leader Vijayakanth, a former actor who had several fiery exchanges with Jayalalithaa.
The trial was yet to begin in many cases, his lawyer GS Mani told HT. "The accused is required to be present on every date of hearing. A non-bailable warrant is issued in case of an absence," Mani said.
Read | The art of defamation: Jayalalithaa's most useful tool
BJP leader Subramanian Swamy faces five cases for tweets against the Jayalalithaa government. The PMK has nine cases and the Congress seven.
The Jaya government seems to be getting increasingly upset with its critics. It lodged 120 defamation cases between 2002 and 2006. Before it, the DMK government filed 40 cases during its five years in office beginning 2006.
Defamation, described as a "reasonable restriction" on free speech in Constitution, has been a topic of debate. Free speech advocates see it as a tool to silence critics and suppress dissent.
In May last, the Supreme Court upheld the constitutional validity of criminal defamation law -- Section 499 and 500 of the Indian Penal Code that prescribes two-year jail term or fine or both for damaging someone's reputation.
"When reputation is hurt, a man is half-dead. It cannot be crucified at the altar of one's right to free speech," the court said. It rejected the petitions filed by Swamy, Congress vice-president Rahul Gandhi and Delhi chief minister Arvind Kejriwal.
Defamation can't be used as a political tool, the court said while hearing Vijayakanth's petition in which he has asked for guidelines for public prosecutors who clear defamation cases filed by governments.
Prosecution must apply his mind before granting sanction and not behave like a post office, the actor had said. Aspirations and sometimes desperation of the people are expressed through such criticism, he had argued.