HT Salutes: Travelling for miles to feed the hungry
On an average, Dasari Durga Rao earns Rs 10,000 to Rs 12,000 a day during the weekdays and a little more on Sunday when the sales are higher.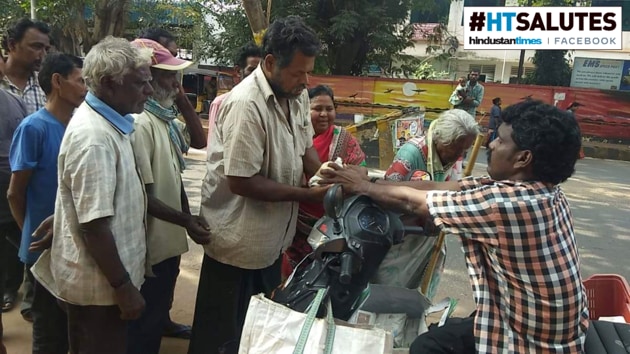 Updated on Jul 18, 2020 08:52 PM IST
Dasari Durga Rao, a 34-year-old fish merchant, lives in the Ranigari Thota Colony on the banks of Krishna river in Vijayawada town of Andhra Pradesh.
Affected by polio when he was two, Rao has been displaying a large heart in feeding the migrant workers and poor people, ever since the country has gone into lockdown nearly three months ago to contain the spread of Covid-19.
His schedule is fixed. Each morning, Rao rises at 4 am, gets on his three-wheeler Scooty (specially designed as he was affected by polio at age two) and travels to Guntur town about 40 km away. There, he sets up shop at a footpath near the main market vegetable and sells the fish. "Since I bring good quality fish, I have dedicated customers who don't go anywhere else," he said.
"Luckily, my business has been going on comfortably and I haven't suffered any loss till now," he said. Fish, like mutton and chicken was an essential item during the lockdown.
On an average, Rao earns Rs 10,000 to Rs 12,000 a day during the weekdays and a little more on Sunday when the sales are higher. "On Sundays, I start my activity at 1 AM because of the demand," he said. He's usually done with the sales a little after noon time.
Back home, he gives Rs 2500 – or one-fourth of his savings – to his wife, Nagalakshmi. The rest, he said, he spends on buying food and ration for the poor and hungry.
"Every day I used to watch hundreds of migrant workers, along with their children, walking for miles on the Guntur-Vijayawada national highway (NH-16) and I felt bad about them. Similarly, I have come across several families who have been starving due to lack of work and any support from the government. So, I thought of doing whatever little I can to mitigate their hunger," he said.
Three times a week, after winding up his fish trade for the day, Rao returns home on his Scooty to pick up food packets. He then rides all along the Guntur-Vijayawada route to distribute these packets, which contain rice, lentils, curry and sambar. He ties these packets in plastic trays, and attaches them to his vehicle with rope.
Earlier, Nagalakshmi would cook the food and pack it. "Soon, I started serving a lot more people. So I engaged a cook from a restaurant. On an average, I'd say we have been feeding 400-500 people a day. That comes to around Rs 16,000 a day," he said.
Rao has been doing this since the lockdown was first imposed in the last week of March.
Rao has also distributed groceries and vegetables to the underprivileged. "I kept getting calls from far-off places like Machilipatnam, so I would make the trip to distribute groceries to the poor families there," he said.
Machilipatnam is at least 70 km from Vijayawada.
Durga Rao, who studied up to Class 10, inherited the fish-selling business from his father, who died in 2010. "Earlier, I used to work with a prawns' merchant, but after my father's death, I got into this fish-selling which has become my livelihood now," Rao, a father of three school-going daughters, said.
Rao was inspired to do philanthropy three years ago after an incident that changed his life. Here's what happened:
"One day, I was having lunch after selling fish when an old woman came to me with a begging bowl. I gave her a ten-rupee note and I thought I had done a great favour to her. She quietly left the place and sat under a tree right in front of me. She stared at me for a long time. After I finished my lunch, I went up to her and found that she was dying right in front of my eyes. Then I realised that she died of hunger and I could have saved her life by parting with some food," he recalled.
"It was then I realised that feeding the hungry was the purpose of my life. Since then, I decided to earmark three-fourths of my earnings only to feed the poor," he said.
Durga Rao also gets a government pension as a person living with a disability which amounts to Rs 3,000 a month. He uses all of this for his philanthropy.
He opened a Facebook page to request people to support his endeavour. "Ten people helped me during this lockdown period: some donated a couple of rice bags and others offered cash ranging from Rs 5,000 to Rs 10,000," he said.
"If I can get at least 10 people around me to help the needy, I will feel fulfilled," he said.
Hindustan Times and Facebook have partnered to bring you 15 stories of HT Salutes. HT is solely responsible for the editorial content of this series. This is the concluding piece in this series.
Close Story