Tricolour in hand, Indian woman skydives 5,000 feet in Finland to celebrate Independence Day
Shital Rane-Mahajan (36) said she jumped off an aircraft from 5,000 feet and landed at the designated spot, with the huge Tricolour fluttering all through the descent.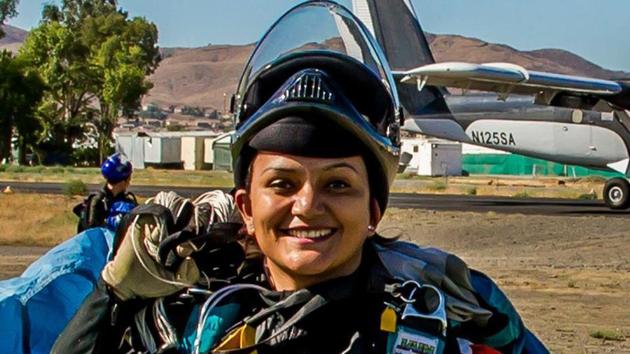 Updated on Aug 15, 2018 08:55 PM IST
Mumbai | By Indo Asian News Service
Fulfilling a long-cherished dream, Indian adventurist Shital Rane-Mahajan on Wednesday dived from over 5,000 feet in Finland with a Tricolour to mark India's 72nd Independence Day.
The Tricolour, measuring 10 feet by 6 feet, was handed over to Shital by Indian Ambassador to Finland, Vani Rao, after the I-Day celebrations by the Indian community settled in Helsinki.
"From Helsinki, we drove down to the Utti Skydiving Centre, around 100 km away, for the skyjump, which was absolutely smooth and successful," an elated Shital told IANS on phone from Finland.
The 36-year-old, a mother of two, said the weather was perfect for the adventure and that she jumped off an aircraft from 5,000 feet and landed at the designated spot, with the huge flag fluttering all through the descent.
"It all happened within 100 seconds. I stepped out of the aircraft, opened my parachute and then the flag bag tied to my waist, unfurled the Tricolour and continued with my dive," Shital said.
Awaiting below on terra firma was her anxious husband Vaibhav and her nine-year-old twin sons Vrushabh and Vaishnav, besides a large number of onlookers who cheered her.
Though Shital — a 2011 Padma Shri awardee — has performed several demo skydives in India with different flags depending on the sponsors, this was her first-ever with an Indian flag.
Prior to her, renowned Indian adventure sportswomen Rachel Thomas and Archana Sardana have performed similar skydives on various occasions with the Tricolour, making Shital the third civilian to do so.
"Now, my ambition is to skydive with the Tricolour in India, especially since civilian skydiving of certain categories has been banned in the country since 2002," she said.
In February, Shital hit the headlines when she skydived from 13,000 feet over Pattaya, Thailand, sporting a colourful 'Nav-wari Sari' (traditional Maharashtrian nine-yard sari).
Hailing from Pune, Shital has around 18 national and six international skydiving records and has completed more than 705 skyjumps around the world, bagging national and international honours.
She shot to global fame on April 18, 2004, when she made her maiden jump — without practice — on the North Pole from a Russian MI-8 helicopter hovering 2,400 feet above the ground in minus 37 degrees temperature, making her the first woman in the world to accomplish the feat.
On December 15, 2006, she made the world's first accelerated freefall parachute jump at the South Pole in Antarctica, from a Twin Otter aircraft, coming down from a height of 11,600 feet.
This made her the first and the youngest woman in the world to achieve the feat at both the Poles at the age of 23.
On April 19, 2008, Rane-Mahajan tied the knot with Finland-based software engineer Vaibhav Rane.
The couple got married in a hot air balloon, with a priest performing the nuptial ceremonies and parents in tow, around 750 feet above Pune city. Vaibhav is also an avid skydiver with 57 jumps to his credit. They became the first Indian civilian couple to skydive together in November 2011.
However, she is still keen on pursuing her dream of skydiving over Mt Everest, despite two unsuccessful attempts in 2010. At present, Shital is on a real high — with dives on all seven continents — in around 10 years, on Antarctica, Australia, Asia, Africa, Europe, North America and South America.
Last year, she became the first Indian woman to be nominated by the Aero Club of India for the prestigious FAI Sabiha Gokcen Medal for skydiving in all seven continents. Settled in Finland since marriage, Shital has set her target this year on a 'family skydive' with her husband and two minor sons.
Close Story