Triple talaq verdict Highlights: Modi says SC order grants equality, Rahul welcomes decision
Aug 22, 2017 08:31 PM IST
The Supreme Court said on Tuesday that triple talaq -- the Muslim practice that allows men to instantly divorce their wives -- is unconstitutional, striking it down.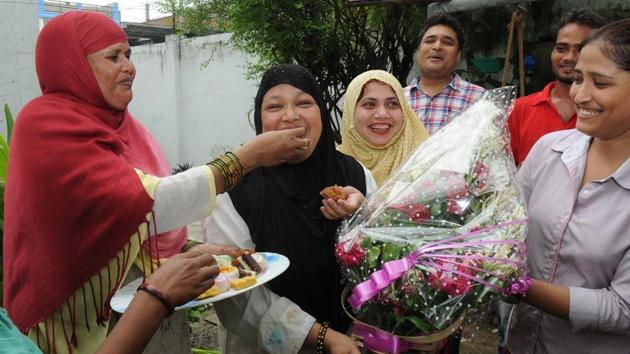 The bench comprised of five judges of different faiths deliberated for three months before issuing its order. The order comes in response to petitions from seven Muslim women who had been divorced through triple talaq.
More than 20 Muslim countries, including neighbouring Pakistan and Bangladesh, have banned the practice.
Here are the highlights of the day:
7:47pm: Amnesty International India welcomed the Supreme Court verdict striking down the practice of instant triple talaq.
7:45pm: With the Supreme Court banning instant triple talaq, activists urged the apex court to also take steps to decriminalise homosexuality and penalise marital rape, reported news agency PTI.
7:30pm: Veteran actor Shabana Azmi welcomed the Supreme Court's verdict banning the practice of instant divorce among Muslims.
7:25pm: Senior advocate Mukul Rohatgi, who had advanced Centre's stand against the practice of triple talaq as the attorney general, welcomed the Supreme Court ruling, saying it is a step towards achieving the ultimate goal of a uniform civil code.
Dubbing it as a "path-breaking judgement", Rohatgi said the stand of the government was "completely vindicated" and the judgment has restored the dignity of the Muslim women who can now march to progress like other citizens of the country.
6:40pm: Shahi Imam of Delhi's Jama Masjid Syed Ahmed Bukhari said the issue of triple talaq would not have reached the Supreme Court had the All India Muslim Personal Law Board not failed to address the problems of women "wronged" by the divorce practice.
6:20pm: The triple talaq issue is not related to religion but social reform, Union minister of state for minority affairs Mukhtar Abbas Naqvi said, adding that the Modi government would discuss with all political parties on framing a law on the matter. He welcomed the decision of the Supreme Court that banned instant divorce.
6:07pm: The VHP said the government should enact a law against the practice of triple talaq and also bring a legislation to ban more than two children.
6:00pm: The Supreme Court ruling on instant triple talaq will usher in an era of equality among women, actor-politician Paresh Rawal said in Mumbai. The BJP MP welcomed the verdict, saying it was an "affirmation of women's rights" and would give them relief from discrimination.
5:56pm: Congress vice-president Rahul Gandhi welcomed the apex court verdict.
5:35pm: West Bengal chief minister Mamata Banerjee refused to comment on the apex court verdict on triple talaq. "I will not say a word on this," Banerjee said at Nabanna, the state secretariat. Though Banerjee and her party stayed away from the issue, West Bengal library service minister Siddiqulla Chowdhury criticised the Supreme Court judgment.
"I do not know what my party's stand is. Though I am a minister in this government I will still say that this talaq system is prevailing since ages. The right (to give talaq) is conferred by Quran. No court has the right to nullify that," he said.
5:12pm: The Supreme Court judgment declaring instant triple talaq as unconstitutional has brought smiles on the faces of several Muslim women of Hyderabad. The city witnessed some bizarre instances of triple talaq in the last few months, wherein men divorced their wives through telephonic calls, postcards and even through WhatsApp.
4.16pm: "This is the first-ever verdict in favour of Muslim women," says Farhat, sister of Union minister Mukhtar Abbas Naqvi. Farhat, who was divorced by her husband for giving birth to a girl child, runs a non-political voluntary organisation for the welfare of the victims of triple talaq and domestic violence.
4.04pm: "The SC's judgement is victory for all who believed personal laws must also be progressive and compliant with constitutional guarantees," ANI quotes Arun Jaitley as saying.
3.54pm: "BSP welcomes the verdict. It would have been good if the Muslim Personal Law Board acted in the matter, but they didn't," says BSP chief Mayawati.
3.45pm: "This verdict is a step towards gender equality; it will empower women. Today we don't realise the kind of widespread effect this decision will have. Women will not tolerate inequality now," says former Union minister Arif M Khan to ANI.
3.37pm: "I welcome the Supreme Court judgement on instant triple talaq. Its a victory for brave Muslim women who have waged battle against it for years," tweets actor Shabana Azmi.
2.55pm: Finance minister Arun Jaitley tweets in support of SC's judgement.
2.40pm: Kolkata cleric Moulana Ahmed Barkati calls SC judgement an 'unparalleled and unique' decision. "There are only pros, and no cons to this decision, because the Muslims have made a mockery out of divorce and out of Islam as well- getting drunk and announcing divorce is not the right way," he tells ANI.
2.26pm: "I am very happy; it is a good judgement. Now discrimination due to triple talaq will end," says former AG Soli Sorabjee.
2.03pm: "Victory of our constitutional values. Will repeat what PM has said earlier, don't link it to any religion," BJP leader and law minister Ravi Shankar Prasad.
2.02pm: "We have to respect the judgement. It is going to be a great herculean task to implement this on ground," says AIMIM leader Asaduddin Owaisi.
1.45pm: "Judgment of the Hon'ble SC on Triple Talaq is historic. It grants equality to Muslim women and is a powerful measure for women empowerment," tweets Prime Minister Narendra Modi.
1.30pm: "We welcome the Supreme Court's verdict on triple talaq. Muslim women got justice through it," says Uttar Pradesh chief minister Yogi Adityanath.
1.20pm: "I can say with satisfaction this was the last case which I did before I decided to quit," says Mukul Rohatgi.
1.16pm: Social activist Shaista Ali, who was affected by triple talaq: "We are happy that Supreme Court supported us. This will definitely improve the condition of Muslim women who face atrocities in the name of triple talaq. I also want that the court should also ban the provision four marriages without divorce."
1.09pm: "We hail the judgement, it protects personal laws and at the same time deprecates the practice of triple talaq," says Congress leader Kapil Sibal.
12.59pm: BJP president Amit Shah says: "I welcome the historic verdict by the Supreme Court on the issue of triple talaq... This is the victory of basic constitutional rights and right to equality of Muslim women."
12.53pm:
12.49pm: "Shia Personal Law Board has been fighting against triple talaq since 2007, welcome this verdict. It is a great first step," says Maulana Yasoob Abbas,Shia cleric.
12.18pm: "What we hoped to happen has now happened, it is a good decision," says Salman Khurshid.
12.07pm: "It's a good judgement and it's another step towards gender justice and gender equality," says Maneka Gandhi,Union minister.
12.05pm: Our grievances and apprehensions, whether they have been addressed by the judges or not, can be expressed after seeing judgement... What will happen to those Muslim women who even after judgement will accept 'talaq': Z Jilani, AIMPLB
12.04pm: "Welcome SC 's judgement, request central government to bring in a legislation soon," says Madhya Pradesh chief minister Shivraj Singh Chouhan.
12.03pm: "Have respected SC's judgements in past, today's judgement on triple talaq will also be considered by us: Z Jilani, member, AIMPLB.
12.02pm: The All India Muslim Personal Law Board has convened a meeting on September 10 in Bhopal to discuss the Supreme Court verdict on triple talaq and chalk out the future strategy on the issue, says Maulana Wali Rehmani, AIMPLB general secretary.
11.59am:
11.55am:
11.39am: Shayara Bano, who was the first woman to challenge instant triple talaq in a court, says the SC judgment should be accepted. "I welcome the verdict and support it. This is a historic day for Muslim women," she says.
11.37am: Justice Nariman said triple talaq is a part of 1934 Act, should always be tested on constitutionality: S Mehmood, lawyer.
11.36am: Justice Kurien said triple talaq is not an essential part of Islam and enjoys no protection of Article 25, set it aside:Saif Mehmood, lawyer.
11.32am: Naseem Akhtar, Jaipur convener of Bharatiya Muslim Mahila Andolan, says: "It's a good and balanced decision. Now we hope and expect the government to make a law against triple talaq the soonest."
11.31am: Aafreen Rehman, affected by triple talaq, from Jaipur says: "I am happy with the court's decision. It's a beginning towards the abolition of triple talaq in the country. A law against triple talaq is what we wanted and the court has directed the government to do the same. And the court has in a way banned it until the law is made. The cruelty that was happening against women in the name of triple talaq, wherein they were thrown out of the house like a pair of shoes, will now end."
11.27am: President of All India Muslim Women Personal Law Board Shaista Amber has welcomed the Supreme Court judgment on triple talaq holding the Islamic practice as unconstitutional.
11.24am: CJI says matters of personal law cannot be touched by a constitutional court law or constitutionality cannot be tested: Saif Mehmood, lawyer.
11.04am: "Talaq-e-biddat (instant divorce) is manifestly arbitrary which allows a Muslim man to break down marriage whimsically," majority view of the bench said to a packed courtroom.
"It cannot be considered as integral part of personal law and cannot have constitutional protection. It is against Quran and violates the Shariat," it said.
11.02am: The SC strikes down instant triple talaq (talak-e-biddat) by 3-2 verdict, saying it violates Article 14 of the Constitution. Majority view of the bench is that the practice is arbitrary and against the tenets of Islam.
Minority view by CJI JS Khehar and Abdul Nazeer wants triple talaq put on hold for six months and for the government to bring a new law by then.
10.53am: CJI JS Khehar says talaq-e-biddat is an integral part of Sunni community practised for 1,000 years.
10.51am: Minority view of asked the government to bring a legislation within six months. CJI Khehar says all parties must decide keeping politics aside.
10.48am: CJI JS Khehar says talaq-e-biddat is not in violation of articles 14,15, 21 and 25 of the Constitution.
10.46am: Triple talaq will not be in operation for six months, says minority view of SC bench.
10.34am: Judges assemble to pronounce verdict
10.29am: It is a big day, let us see what the judgement says: former attorney general Mukul Rohatgi.
(With agency inputs)