Tripura elections: BJP fields maximum tainted, richest candidates
Hindustan Times, Agartala |
Priyanka Deb Barman
Feb 10, 2018 05:55 PM IST
Eleven out of 51 BJP candidates have criminal records against them while 18 of the party's candidates are millionaires.
The BJP's list of candidates for the Tripura assembly elections has the highest number of those with criminal records. It also has the highest number of millionaires while the ruling CPI(M) has the least number of such contestants among the national political parties, according to an election watchdog report.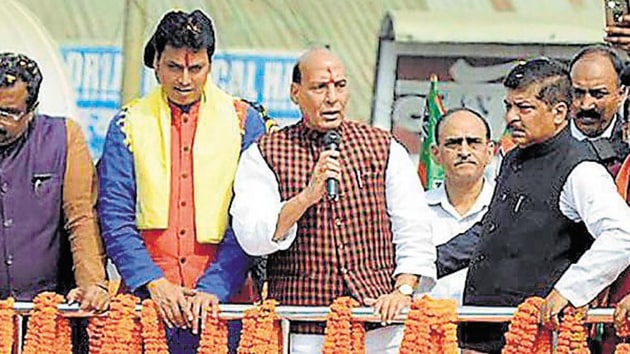 Around 7.45% of the candidates have criminal history while 11% are millionaires. Out of the total 297 candidates, 22 have criminal cases against them while 35 have declared wealth exceeding over Rs. 1 crore, says the report of Tripura Election Watch of the Association for Democratic Reforms (ADR) released on Saturday.
Elections to the 60-member assembly takes place on February 18.
The BJP leads with maximum number of candidates having criminal cases against them – 11 out of the 51 contesting, followed by four of the 59 candidates of Congress, two from CPM's 57 candidates, two out of 9 IPFT candidates and one out of 24 candidates from Trinamool Congress.
The highest number of candidates with serious criminal charges is also from the BJP, the report said.
"Tripura has comparatively highest ratio of candidates having criminal charges in the entire northeastern region," said Biswendu Bhattacharya, coordinator of Tripura Election Watch.
Among the 35 candidates who have assets of over Rs. 1 crore, 18 are from BJP, nine from Congress, four from CPI(M), two from INPT and one each from IPFT and Trinamool Congress, said Bhattacharjee.
The richest candidate is Jishnu Devvarma of BJP, contesting from Charilam seat, with assets worth of more than Rs 11 crore while Khagendra Reang and Parkaroy Reang of Tripura Peoples' Party are poorest with declared assets of Rs 100 each. Two independent candidates --- Sudarshan Majumder and Kanchai Mog --- have declared 'zero' assets in their affidavits.
Around 78% of the candidates did not declare their income tax details but three of them --- two from BJP and one from Congress --- were in the list of top asset holders.
BJP candidate Jitendra Majumder tops the list of 110 candidates having liabilities with debt of over Rs. 7 crore.
Six of the ten candidates in fray have studied till higher secondary level, the report said, adding one candidate has declared that he is illiterate. A total of 173 candidates have studied between class five and 12 while 121 candidates have completed their graduation and more.
There are 24 women candidates in the fray.