UIDAI delays introduction of face recognition facility for Aadhaar till August 1
Press Trust of India, New Delhi |
Press Trust of India
Jun 13, 2018 06:21 PM IST
The UIDAI has delayed introduction of the face recognition facility for Aadhaar by one month to August 1 to get enough time to prepare for a smooth rollout.
The Aadhaar-issuing body UIDAI has delayed introduction of the face recognition facility for authentication by one month to August 1 to get enough time to prepare for a smooth rollout.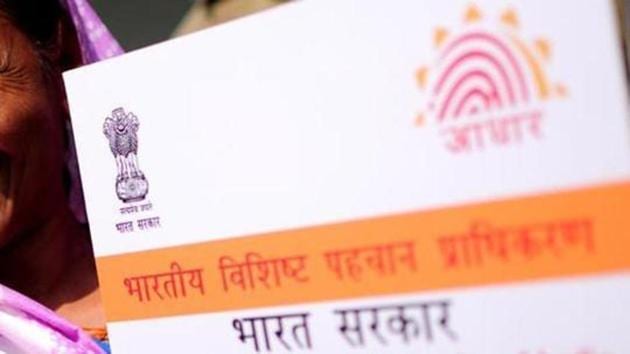 Unique Identification Authority of India (UIDAI) CEO Ajay Bhushan Pandey told PTI that some more time will be needed to prepare for the rollout of the new facility which was earlier planned to be introduced from July 1.
The authority in charge of the national identity system had earlier this year announced that it will include face recognition alongside iris or fingerprint scan as a means of verifying users, helping those who face issues in biometric authentication or have worn-out fingerprints.
"We are working on that. From August 1, we should be able to do it. All this is technology, and while we target a date this is not something as if we are buying things off-the-shelf. These things are being developed," Pandey said.
The UIDAI wants to be fully prepared, he said adding, "We are trying out best to have this released from August 1."
The UIDAI had said that face authentication would be allowed "only in fusion mode" meaning along with either fingerprint or iris or OTP (one time password) to verify the details of the Aadhaar holder.
It is aimed at helping people who face difficulty in biometric authentication due to old age, hardwork or worn-out fingerprints, to authenticate their identity for accessing services, benefits and subsidies.
"From August 1, it will be available to user agencies. We will then watch how it performs in the field... If more tuning or adjustment is required, we will do that and in the next few months, this whole process should get stabilised. We will then make it applicable across all our users," Pandey added.
Asked if there will be a cut-off date for all authentication agencies to have the new facility in place, Pandey said specifying a definite timeframe could be difficult.
"It is a step in new direction. It is something unprecedented... Even if we want to do it as early as possible, it is difficult to specify definite timeframe," he said.
The UIDAI chief emphasised that additional time taken to make the new system operational would, by no way, inconvenience Aadhaar holders given that exception handling mechanism is already in place.
"Even if it takes a few more months, it is not as if people are being denied benefits in its absence. As long as we have an exception handling mechanism, it will ensure that anyone with fingerprint authentication difficulty or failure will be provided alternate means and given the benefits...," he said.
The UIDAI had earlier announced that in order to facilitate the new authentication service, it will work with biometric device providers to integrate face modality into the registered devices.
It will also line up software development kits that will have the ability to capture face image, check liveness, and create digitally signed and encrypted authentication input.
The latest decision to push back the introduction of face ID system comes just days after UIDAI extended, by one month to July 1, the deadline for service providers and agencies like banks and telecom companies to fully deploy Virtual ID system and accept such IDs in lieu of Aadhaar number.
So far, 121.17 crore residents have been enrolled for Aadhaar. It has been used for 19.6 billion authentications.