UP: Gang-rape survivor attacked with acid again in Lucknow's Aliganj
Updated on Jul 27, 2017 05:16 PM IST
Police said the woman was attacked at a hostel in Lucknow's Aliganj area on Saturday night.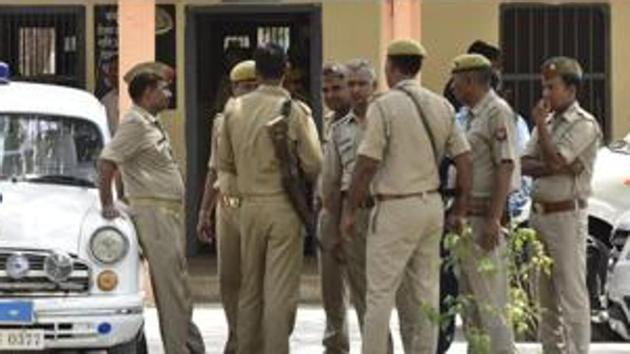 An acid attack survivor was targeted with the corrosive liquid in Lucknow by unidentified people, police said on Sunday, the latest assault on the woman pursuing court cases against two men who had allegedly gang-raped her in 2008.
Police said the woman, a mother of two, was attacked at a hostel in Lucknow's Aliganj area on Saturday night. She cannot be named for legal reasons.
She suffered injuries on the right side of her face and shoulder and is undergoing treatment at the trauma centre of the King George Medical University.
The Rai Bareli police detained Bhondu Singh and Guddu Singh, the two men accused of gang raping her, late on Saturday night.
The incident came barely three months after chief minister Yogi Adityanath met her at the same hospital after the two suspected rapists allegedly forced acid down her throat on a train in which she was travelling with one of her daughters.
The accused were arrested for the crime but released on bail.
The BJP stormed to power in Uttar Pradesh earlier this year, riding on a promise of ensuring women's safety in the state which has one of the highest rates of crime against women in India.
Read| Woman who survived gangrape, acid attack forced to drink acid on train
The repeated attacks on the woman, first targeted with acid in 2011, also indicated the easy availability of the liquid in the state despite a Supreme Court ban on its open sale.
Acid attack was made a separate category of crime in 2013 amid growing incidents of revenge on women who spurn sexual advances or reject marriage proposals.
On Saturday night, two assailants allegedly entered the hostel by scaling the perimeter wall of the hostel and threw acid on her.
Sandeep Singh, an armed constable deployed by the state government for her security, was in the waiting hall of the hostel when the incident occured.
Vivek Tripathi, Aliganj circle officer, said video footage from cameras installed at the hostel and commercial establishments in the area were being scanned to identify the accused.
The woman works at Lucknow's Sheroes Hangout Café, which is run by several acid attack survivors. Her husband and two kids live in Rae Bareli.
The woman had lodged at least eight FIRs against the two accused and their accomplices.