UPA deported over 80,000 Bangladeshis in 2005-13, NDA did 1822 in 4 years: Congress
Congress dared Prime Minister Narendra Modi and BJP president Amit Shah to clarify their stance on Citizenship Amendment Bill, 2016.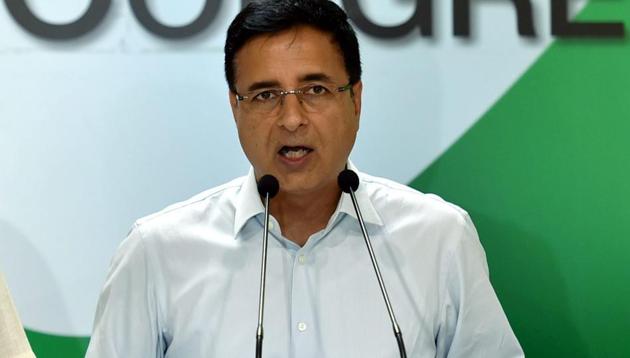 Published on Aug 04, 2018 10:25 PM IST
New Delhi |
Indo Asian News Service
The Congress on Saturday alleged that BJP President Amit Shah lied on the deportation of foreigners, claiming that the UPA government had deported 82,728 Bangladeshi foreigners between 2005-2013, while the count was only 1,822 in the last four years of the Modi government.
On deportation, Congress spokesperson Randeep Singh Surjewala recalled three replies given by the Home Ministry in Rajya Sabha on three different occasions in 2008, 2016 and 2018. These replies given in Parliament state that 88,792 Bangladeshi nationals were deported between 2005 and 2013 (during UPA rule). The reply also stated that from 2014 to 2017, 1,822 Bangladeshi nationals were deported during the NDA rule.
The first reply was in October 2008 by then Minister of State for Home Affairs V. Radhika Selvi (from DMK, UPA-I). She had said the number of deported Bangladeshis in 2005 was 14,916. In 2006, it was 13,692 and in 2007, the number was 12,135.
The second reply was given by Minister of State Home Affairs Kiren Rijiju on March 9, 2016 in Rajya Sabha (from 2008 to 2014) and the third reply was given again by Rijiju on March 14, 2018 for the period 2013 to 2017.
Surjewala also accused Amit Shah and Modi government of duplicity, deception and double-speak.
Daring Prime Minister Narendra Modi and Shah to clarify their stance on Citizenship Amendment Bill, 2016, Surjewala said: "On one side, they are shedding crocodile tears on NRC and claiming deportation of foreigners, and on the other, Citizenship Amendment Bill, 2016 seeks to give citizenship to foreigners undoing the entire process of NRC."
"Instead of fooling the people, Modi, Shah and Assam Chief Minister Sarbananda Sonowal must answer whether they support the NRC process or whether they support the Citizenship Amendment Bill, 2016 as both are directly in conflict with each other.
"NRC process will fail once citizenship is given to everyone as per the Citizenship Amendment Bill," he added.
Close Story
Personalise your news feed. Follow trending topics