US-India ties under Trump won't impact China in any way: Chinese media
The outlook for trade ties between India and the US do not look good and this too will have little impact on China's influence on regional trade, the state media in China said.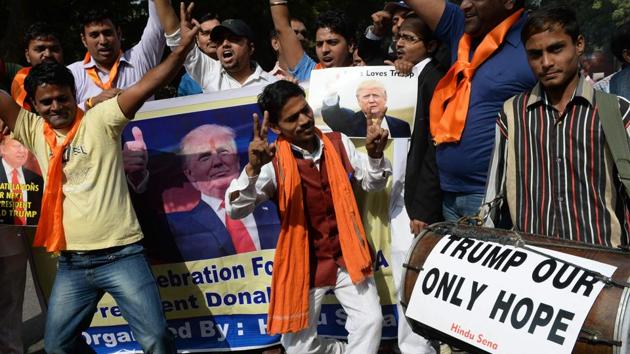 Updated on Dec 06, 2016 01:14 PM IST
Beijing: India-US relations will be an important part of president-elect Donald Trump's future diplomacy but will have little impact on China as he will recalibrate security cooperation between Washington and New Delhi, the state media said on Tuesday.
The outlook for trade ties between India and the US do not look good either and this too will have little impact on China's influence on regional trade, the report said.
The fairly pessimistic views about the future of India-US ties were expressed by academic Li Haidong from the Institute of International Relations at China Foreign Affairs University in the nationalistic tabloid, Global Times.
"To sum up, US-Indian relations during Trump's term will have a limited impact on China. The intensive US-India security cooperation during the (Barack) Obama administration will be changed due to Trump's adjustment in diplomacy, easing off the pressure on China. Besides, the prospect of US-Indian cooperation in trade is not optimistic, and it will only exert a limited effect on China's influence on regional trade," Li argued.
Read: Chinese media warn 'rookie' Trump not to cross Beijing
Not that, according to Li, Trump will give less importance to India.
But two aspects - one, Trump's domestic compulsions and, two, India's non-aligned foreign policy - could well trump the ties.
"US-Indian relations will become an important part of Trump's diplomacy…the Trump administration will seek an improving relationship with India. However, due to its own domestic problems, India can only play a limited role in assisting the US in solving headaches, thus the Trump administration will not put US-Indian relations in a very important position, and its enthusiasm for building a quasi-alliance with India will decrease," Li wrote in the newspaper.
Li contended India will continue with its non-aligned diplomacy and will not team with the US against China.
"As a global power sticking to non-alignment diplomacy, India probably will not set a goal of allying with the US in suppressing China as the US hopes. Therefore, there are unbridgeable differences between American intentions for developing a close relationship with India to balance China and India's concept of developing independent diplomacy toward the US and China," Li said.
Li added: "In other words, the US attempts of establishing a quasi-alliance with India to restrict China may not be accepted by India as the country owns an independent diplomatic tradition."
Li said Trump's expected "economic nationalism" will collide with free trade as advocated by India, leading to more friction.
"Trump's decision to withdraw from the Trans-Pacific Partnership shows the US will take a more closed trade and economic policy in the future. This runs counter to the free trade trend under globalisation," the article said.
"By contrast, India has actively participated in and integrated into the process for building an Asian free trade mechanism. The US-India divergence in this aspect will confine their international economic and trade cooperation," Li wrote.
Close Story