Demonetisation was 'bitter pill' to treat corruption: PM Modi
Prime Minister Narendra Modi said he used the "bitter medicine" of demonetisation to bring back money into banking system and to give "proper treatment to deep-rooted corruption system" in the country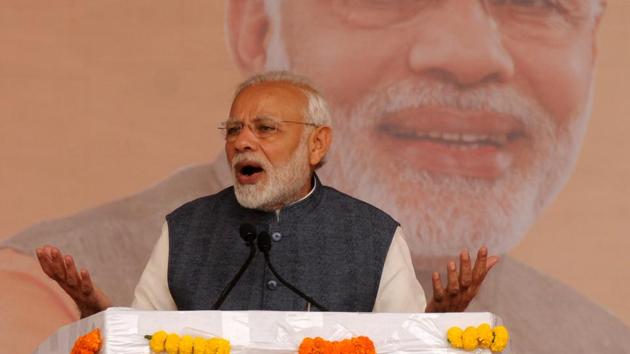 Updated on Nov 20, 2018 10:38 PM IST
Prime Minister Narendra Modi said Tuesday that demonetisation (the invalidation of old high value currency notes in November 2016) was a bitter pill necessitated due to spread of corruption during the Congress regime so that the black money "stashed under beds" could be brought back into the country's treasury.
Modi was addressing a public meeting at tribal-dominated Jhabua, 341 kilometers west of Bhopal as a part of his election campaign for the BJP in the run-up to the state assembly elections.
Modi said: "When termites strike, the most poisonous chemical is required to treat it. Corruption spread on such a scale during Congress regime that I had to use a bitter pill of demonetisation to treat the same so that those who looted the poor returned the mon- ey to the country's treasury."
"The PM is in habit of conveniently forgetting what he said in his last meeting. He keeps on changing his statement on why he introduced demonetisation. My advice to PM is that he should listen to his own speeches right from the moment he punished the country with demonetisation to know how he has been changing his statements on reasons behind his wrong move which destroyed country's economy," state Congress media in charge Shobha Oza said.
Modi said that previously, one would occasionally see pictures in newspapers of currency notes were stashed under beds in the houses of government employees, politicians and factories of industrialists.
"This is Modi's strength that they were compelled to deposit every bit in banks and this money is being used for construction of roads, schools, hospitals and on welfare schemes of the poor. When the money stashed under the bed came out it helped the poor and this is why Congress is upset," he said.
Modi also alleged there was a scam in the loan waiver scheme for farmers during the then UPA regime. He added when Congress talked of the loan waiver in 2008 ahead of 2009 (Lok Sabha) elections the farmers had loans amounting to ₹6 lakh crores. There was a waiver of only ₹60000 crore, he said, but added that according to a report by the government auditor, around 3-4 million people not eligible for the loan waiver received the same. And in an effort to hide this, no certificate of loan waiver was given to 12.5 million people, Modi added, making many poor farmers from being eligible for fresh loans. In light of bigger scams that unfolded -- 2G, coal -- this wasn't detected, he added.
Modi also pitched his government's flagship Ayushman Bharat scheme and said 500 million people can get the best medical treatment costing up to ₹5 lakh a year. He said that while checking corruption at the macro level he has also worked to check corruption on the ground with money for various government schemes now being transferred directly to the accounts of beneficiaries.
In Rewa, Modi attacked Congress for promoting a dynasty rule and said Congress was synonymous with nepotism and corruption.
For more on election cover, read here.
Close Story