VK Singh visits North Korea, first high-level visit from India in 20 years
Press Trust of India, New Delhi |
Press Trust of India
May 16, 2018 09:01 PM IST
The MEA said a range of bilateral issues covering political, regional, economic, educational and cultural cooperation figured in the India-North Korean talks.
In first high-level visit to North Korea from India in two decades, Minister of State for External Affairs General V K Singh was in Pyongyang today where he held talks with several leaders including Foreign Minister Ri Yong Ho on key issues and raised New Delhi's concerns over nuclear proliferation .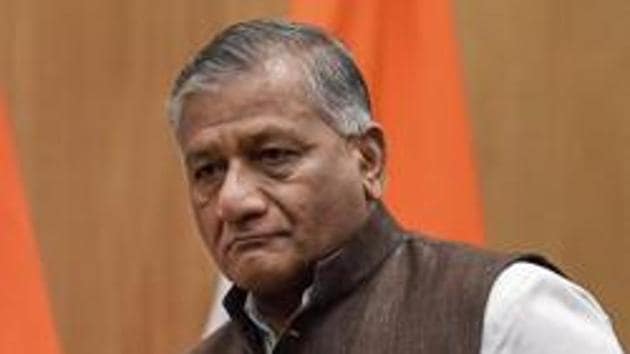 The two-day visit came less than a month before the proposed summit between US President Donald Trump and North Korean leader Kim Jong Un, and is seen as an effort to reach out to Pyongyang.
In the meetings, the Ministry of External Affairs said, the North Korean side provided an "overview" of some of the recent developments in the Korean Peninsula while Singh conveyed India's concerns over proliferation linkages of North Korea with India's neighbourhood, seen as a clear reference to Pakistan.
The North Korean leaders emphasized that as a friendly country, Pyongyang will never allow any action that would create concerns for India's security, said the MEA.
India has been consistently raising the issue of North Korea's possible proliferation linkages with Pakistan and had even demanded a probe into it.
The MEA said Singh reiterated India's support to the joint peace initiative by leadership of both North Korea and South Korea, saying it was encouraging both sides in their efforts towards establishment of peace and prosperity on the Korean Peninsula.
This is the first ministerial level visit from India to North Korea after a gap of almost 20 years. India and North Korea established formal diplomatic relations in 1973. The current year marks the 45th year of establishment of diplomatic relations.
Last month, North Korean leader Kim Jong-un and South Korean President Moon Jae-in signed a joint statement following a historic summit aimed at improving ties between the two countries.
After the summit, Kim became the first North Korean leader to step into South Korea since the end of the Korean War in 1953. India had welcomed the peace initiatives.
The MEA said Singh's visit to Pyongyang, which began yesterday, was at the invitation of North Korean government.
During the visit, Singh held discussions with Vice President of the Presidium of the Supreme People's Assembly Kim Yong Dae, Foreign Minister Ri Yong Ho, Minister of Culture Pak Chun Nam and Vice Foreign Minister Choe Hui Chol.
The MEA said a range of bilateral issues covering political, regional, economic, educational and cultural cooperation figured in the talks.
Singh's visit came amidst a threat by Pyongyang to cancel the June 12 summit between Kim and Trump if Washington insists on pushing it "into a corner" on nuclear disarmament.
The US, however, said it is proceeding with the preparations for the summit.