Want culprits to be cut into pieces: Kurukshetra rape-murder victim's mother
Haryana has one of the worst sex ratios in India, but the parents of the Class 10 girl spared no expenses in educating their two girls. They raised them like sons and sent them to private schools and arranged tuition classes.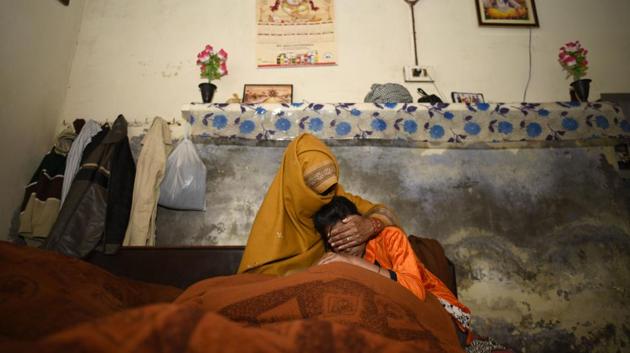 Updated on Jan 17, 2018 09:13 AM IST
Hindustan Times, Kurukshetra |
Shiv Sunny
They are a couple with meagre means but they dreamt big for their daughters.
In a state with one of the worst sex ratio in India, the Haryana couple spared no expenses in educating their two girls. They were sent to private schools and tuition classes were arranged to make up for a shortfall.
The elder, a Class 10 student, wanted to be a doctor. On January 9, she left her home in Jhansa village in Kurukshetra district at around 4pm but didn't reach the tuition centre.
Three days later, her mutilated body was found near a canal in the neighbouring Budha Khera village. She was raped and brutalised.
"She wanted to be a doctor. She would tell me that she would pull us out of our poverty," said her father, a tailor who works on a commission in a shop.
A Dalit, he said he brought up his daughters as sons. "I barely earn Rs 200-300 a day but I ensured both my daughters received private education," he said.
She had beautiful handwriting and was always asked by her teachers to write on the blackboard.
The family learnt of her death on Saturday afternoon. The father was at the police station when a relative called and said TV was flashing news about a girl's body, he said.
"Her locket and the sacred threads she wore on her wrists and ankles confirmed it was her body," he said.
The savagery of the crime has left the parents distraught and angry.
"When the rapists are caught, I want them to be tortured the same way my daughter was raped and killed. I want them to be cut up, slowly into pieces," the girl's mother said on Tuesday as the violence of her words shook her frail body.
A doctor at the Post Graduate Institute of Medical Sciences in Rohtak who carried out the autopsy said the sexual assault was carried out by more than two persons who also used a blunt weapon that ruptured her liver.
There were 19 external wounds and her hair was chopped before she was killed, the report says.
A Class 12 boy, who went to the same tuition centre as the girl, too, went missing around the same time on January 9.
Police suspect the boy, a Dalit and believed to be a minor, as the main culprit. The girl's mother said she wouldn't draw a conclusion in haste though she, too, suspected him.
"I want police to catch the real culprits. Even if the boy was involved, the brutality could not have been the work of an individual," she said.
The family dismissed reports that the girl and the boy were in a relationship. "She wouldn't even visit our relatives in the neighbourhood. It is impossible that she was seeing a boy from our village," said the father.
She was brave but shy, he added. If she wanted to visit the washroom at school, she would tell other girls to inform the teacher, he said.
His younger daughter, all of 11, is yet to come to terms with the events of last week. The two sisters were close. They didn't have a brother so on Rakshabandhan, they would tie rakhis to each other.
But, temperamentally they were different. It was always difficult to get didi to play, said the younger girl. "Her head was always buried in books," she said.
"The killers behaved worse than animals. Despite my limited means, I will fight all my life to bring her killers to justice," the father said.
The boy's house was locked on Tuesday. Neighbours said they had not seen the family since the girl's body was found. "He is a short and docile boy who behaved well with everyone. He never came across as a criminal," said Rampal Grover, a neighbour.
Close Story
Personalise your news feed. Follow trending topics