War of words after Nehru statue vandalised in Bengal's Burdwan district
Updated on Mar 17, 2018 11:47 PM IST
Former Congress MLA Rabindranath Chatterjee alleged that BJP supporters were behind the act. Local BJP leader Krishna Ghosh, however, condemned the act.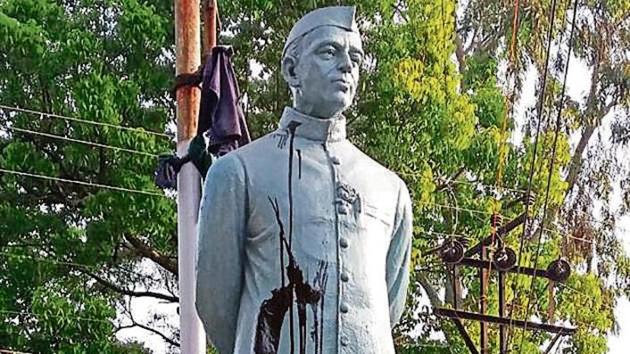 Hindustan Times, Midnapore |
Koushik Dutta
A bust of India's first Prime Minister, Jawaharlal Nehru, was found to be smeared with tar in West Bengal's Burdwan in what appears to be a fresh incident of statue vandalism.
After the defacement was noticed on Saturday morning, the Katwa municipality lodged a complaint at local police station against unidentified miscreants.
Although the Trinamool Congress-run district municipality did not name anyone in the complaint, the chairman of the civic body, Rabindranath Chatterjee, who is also a former Congress MLA from the area, alleged that BJP supporters were behind the act. Local BJP leader Krishna Ghosh, however, condemned the act and said, "There might be political differences, but none from our party would do such thing."
The Congress called the incident a "great shame" and demanded strict action against the culprits.
"Whoever has committed it should be caught and punished. It's a matter of great shame," said Anil Sikaria, a West Bengal Pradesh Congress Committee member. Congresss supporters held demonstrations in the town and submitted a memorandum to the local subdivisional officer demanding a probe and punishment for the culprits.
The defacement of Nehru's bust was the latest in a series of similar attacks on a number of that began with the demolition of communist leader Vladimir Lenin's statute in Tripura following the BJP's victory in the assembly elections.
On March 7, to protest the demolition of Lenin's statue, a group of ultra-Left students vandalised a bust of Jan Sangh founder Syama Prasad Mookerjee in south Kolkata.
Ambedkar statue defaced in Patna
Unidentified miscreants smeared ink on a statute of BR Ambedkar, Dalit activist and the architect of India's constitution in Bihar's Begusarai district.
"Unidentified people smeared ink on the face of the statue. Block development officer (BDO), Manoj Paswan, who was the first to notice the defacement, informed police and lodged an FIR," said Begusarai SP Aditya Kumar Left parties took out a protest march demanding arrest of the culprits.
(With inputs from Patna)
Personalise your news feed. Follow trending topics