Jan Sangh founder Syama Prasad Mookerjee's statue vandalised in Kolkata, six arrested
Six members of a group called the 'Radical', an alleged pro-Maoist students body formed in Jadavpur University four years ago, have been arrested.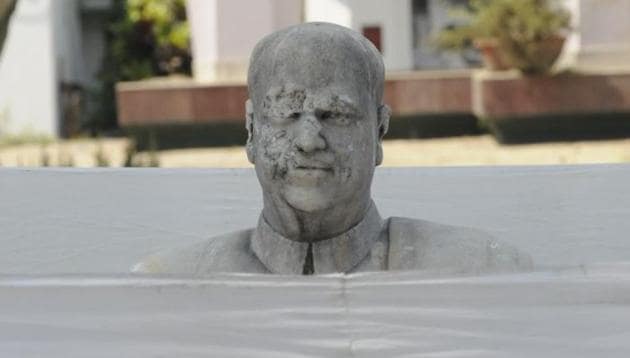 Updated on Mar 07, 2018 04:50 PM IST
Members of an ultra-Left student outfit vandalised and defaced a statue of BJP ideologue Syama Prasad Mookerjee in Kolkata on Wednesday.
Police arrested six members of the "Radical," believed to be a pro-Maoist students body formed in Jadavpur University four years ago, over the incident at South Kolkata's Tollygunge.
The incident follows toppling of statues of Communist icon Vladimir Lenin in Tripura and damaging of a bust of social reformer Periyar in Tamil Nadu.
Police and eyewitnesses said around 8am, a group of six students, including a woman, arrived near Mookerjee's statue adjacent to the Keoratala crematorium, and damaged it.
They shouted slogans against the demolition of Lenin's statues in Tripura, where BJP on March 3 won a historical election to end 25-years of Communist rule.
The students were also carrying placards that proclaimed their identity as members of the "Radical."
According to Jadavpur University students, the group was led by Abhisekh Mukherjee, a former student of the institution. The police earlier alleged that Mukherjee was an associate of Maoist leader Kishenji.
The students used a hammer to break the right ear and right eye of Mookerjee's statue. One of the students defaced it with black ink, police said.
Local Trinamool workers soon gathered at the spot, which is not far from chief minister Mamata Banerjee's Kalighat residence, and stopped the vandals. They also informed the local police station.
State administration is preparing to repair the statue.
Power minister and ruling Trinamool Congress MLA Sovandeb Chatterjee, who rushed to the spot, condemned the incident, saying such act of vandalism would not be tolerated.
He also lauded police for prompt action in arresting the miscreants.
On Tuesday Bengal chief minister condemned the demolition of Lenin's statues by BJP supporters in Tripura, asserting she would not tolerate such actions in her state despite her party's bitter rivalry with the CPI(M).
"I will not tolerate the demolition of Lenin's statue. The CPI(M) may be our opponents and Lenin is not my leader. But that does not mean I shall accept demolition of statues of Marx and Lenin," she had said at a public rally in Bankura district.
Meanwhile, a senior BJP leader claimed that both Tripura and Kolkata incidents were the handiworks of Communists.
"In Tripura Communists broke the statue of Lenin to gain sympathy. In Bengal, too, Communists vandalised the statue of Syama Prasad Mookerjee. Nothing is beyond them. BJP supporters do not need to demolish statues of Communist leaders, for the Communists are withering away," said Rahul Sinha, BJP, national secretary and former president of Bengal BJP.
In 1951 SP Mookerjee founded Jana Sangh that was the precursor of the Bharatiya Janata Party.
Close Story