Water on railway platforms unfit to drink, has bacteria found in human excreta
Drinking water supplied by the railways on platforms and its staff quarters in the northern states, including poll-bound Uttar Pradesh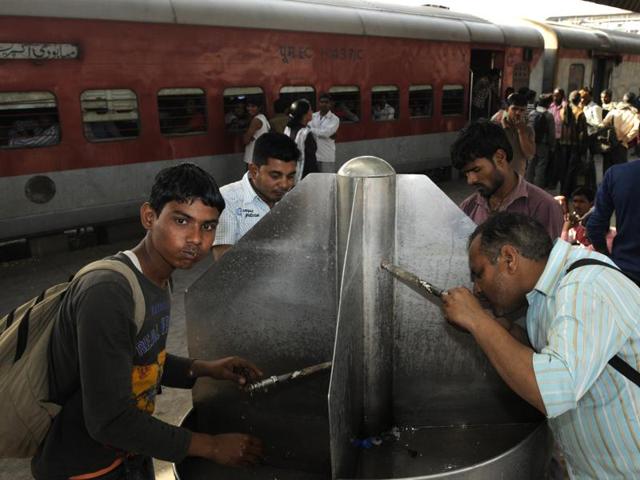 Updated on Sep 12, 2016 07:21 AM IST
Drinking water supplied by the railways on platforms and its staff quarters in the northern states, including poll-bound Uttar Pradesh, is contaminated with bacteria found in human excreta that cause stomach aches and loose motions.
The railways admitted for the first time it has persisted with a flawed water quality monitoring procedure, which considered the presence of up to 10 units of thermotolerant coliform bacteria (TCB) in 100ml samples as being "permissible".
The Bureau of India Standards says the presence of TCB is a sign of faecal contamination that can cause acute gastroenteritis, diarrhoea, dysentery, and tummy cramps.
"Usually, it is nothing to worry about and people might recover within a week, but in children, elderly and people who have a compromised immune system, it (TCB) can cause life-threatening conditions like hypovolemic shock due to dehyderation," said Dr Suranjit Chatterjee, senior consultant, internal medicine, Indraprastha Apollo hospital.
Hypovolemic shock is a condition in which low blood volume results in a drop in the amount of oxygen in the body.
The contamination is happening because only half of the railways' 541 water chlorination plants in the northern zone — comprising New Delhi, Punjab, parts of Uttar Pradesh, Jammu and Kashmir, Haryana and Himachal Pradesh — are working. Water supply units for the Capital, Ghaziabad, Varanasi and Ambala are doing without chlorination, which is necessary to kill harmful bacteria.
The railways admitted as much in response to a petition on train and platform water in the Delhi high court recently.
"We are abandoning the Indian Railways Medical Manual (IRMM) procedures and migrating to the Uniform Drinking Water Quality Monitoring Protocol (UDWQMP) followed by other departments and ministries of the Central and state governments," a senior official said.
The new system should have started in July, but there have been some delays.
The IRMM manual says the presence of 10 units of TCB in a 100ml water sample is "satisfactory". The UDWQMP does not permit the presence of even one unit of TCB.
Railway authorities were aware of the poor quality of water as internal tests on TCB count in 2013 and 2015 indicated bacterial presence ranging from 12% to 40% in many places, including Ferozepur, Lucknow, Ambala and Delhi. In accordance with the UDWQMP yardstick, 80% to 100% samples failed the tests.
For bottled water supplied to passengers in trains, quality checks are based on the UDWQMP.
"How can the transporter follow two sets of procedures for two categories of passengers?" an official wondered.
Water at major northern Indian stations, including Delhi, Moradabad, Ambala and Ferozepur, contain multiple times more TCB than tap water supplied by state governments and municipal bodies, says a 2005 survey.
The Central Public Health and Environmental Engineering Organization (CPHEEO) and the National Environmental Engineering Research Institute (NEERI) jointly conducted the study.
(With inputs from Anonna Dutt)
Close Story
Personalise your news feed. Follow trending topics