'We can't even step out to buy medicines': AMU girls battle sexist rules in hostels
Updated on Oct 09, 2016 01:45 PM IST
Girls in hostels across the country battle sexist restrictions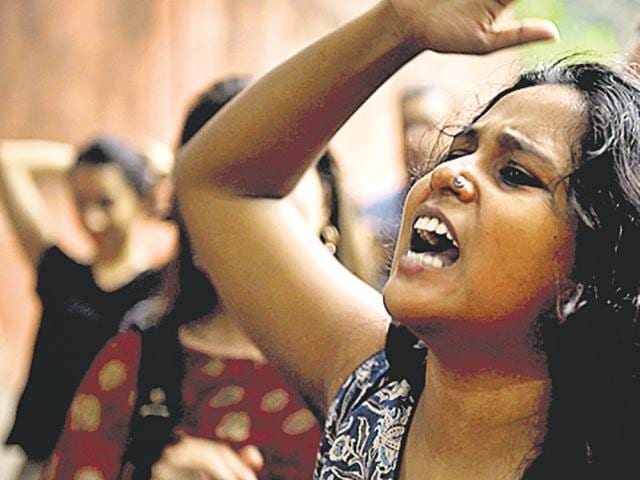 Across several states, girls in hostels are battling patriarchal rules that prevent them from being out late in the evening and force them to adhere to a dress code, among other oppressive rules. In Bhopal's Maulana Azad National Institute of Technology (MANIT), girls staged a demonstration against a ban on wearing miniskirts, nightgowns and shorts in the campus, dining room and hostel office area. At Chennai's Thiruvananthapuram Engineering College, girls protested the 6.30pm deadline, arguing that it prevented them from accessing the library that functioned till 8.30pm. When activists rallied behind their cause, college authorities were forced to roll back the deadline.
Read:Hostel Diaries: How sexist rules are stifling life for girls in BHU campus
In Hyderabad's Osmania University, girls are not supposed to go out after 9pm, and for those who are already out, there is no entry into the hostel after 11pm.
In the nine hostels inside Aligarh Muslim University's Abdullah Hall complex, girls say hostel rules are draconian and infantalise them. "We are allowed only one outing in a week on Sundays," says Siya (name changed), a resident scholar. "We must take the permission slip from the wardens a day before, if we need to leave the hostel on any day other than Sunday. This actually means we need to send a fax to our parents who must fax us back their permission."
The hostels also follow "unscientific rules," says the student. "From breaking a leg to menstrual cramps to viral fever, suppose a girl was to suddenly fall ill in the middle of night, she is given Cetirizine, an anti-allergic drug. We can't even go out of the hostel for proper medicine."
The provost, Romana Siddiqui, could not be reached for comment. "We cannot wear shorts in corridors and have to cover our heads with a dupatta at dinner because there are bhaiyyas serving us." Girl students feel under constant watch. There are CCTV cameras installed at the front gate, they say.
(Inputs:Paramita Ghosh , Shruti Tomar, Srinivasa Rao Apparasu, Ramesh Babu)
Personalise your news feed. Follow trending topics