SC points out Aadhaar Act open for govt to add biological attributes such as DNA
Updated on Apr 04, 2018 10:25 PM IST
The Supreme Court asked if this open-ended clause in the Aadhaar Act 'isn't excessive delegation' if the UIDAI is given the authority to add whatever attribute as biometric.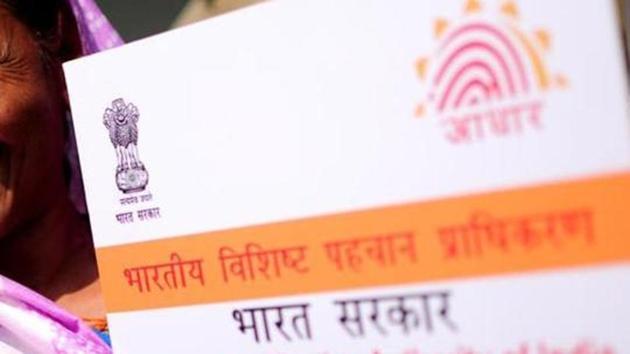 The Supreme Court said on Wednesday that the Aadhaar Act left it open to the government to add "biological attributes" in future and asked whether this would be a case of "excessive delegation" of powers.
A constitution bench led by Chief Justice Dipak Misra posed the question to attorney general KK Venugopal, who justified the Aadhaar law on behalf of the Centre and said it passed the test of proportionality laid down in the Supreme Court's privacy judgment.
Justice DY CHandrachud referred to section 2 (g) of the Act which says "biometric information means photograph, finger print, iris scan, or such other biological attributes of an individual as may be specified by regulations" and asked Venguopal to define the words "such other biological attributes".
"The Act leaves it open to the government to add any biological attributes. Today you may not, but tomorrow with the growth of technology you may decide to add DNA etc," the judge said. "Isn't it excessive delegation if you give Unique Identification Authority of India (UIDAI) the authority to add whatever as biometric and decide mode of collection."
The AG said the additional requirements can be tested in courts whenever they are made. Also, the new regulations will be placed before Parliament as prescribed under section 55 of the Act, ruling out the possibility of any arbitrary additions.
"Parliament can only disapprove the guidelines when they are placed. Initially, the authority will have the power to draw up the guidelines," justice Chandrachud pointed out.
He referred to the petitioners' arguments and recalled that laws, other than the Aadhaar Act, where fingerprinting is permitted had a specific objective such as prisoner identification. "But, the complaint against Aadhaar is that there is universalisation of fingerprint. This, they (petitioners) contend, violates test of proportionality, which the rational nexus with the object sought to be achieved."
The AG asked for more time to respond to the query on excessive delegation. Yet, he asserted that the three main objectives behind Aadhaar is to curb money laundering, tax evasion and terrorism.
"In each one of these, there is a legitimate state interest," he reiterated. He argued that thousands of crores of money is lost due to leakages in the system of providing subsidies. "The only way to plug it is to have one identity, which this (Aadhaar law) ensures," the AG argued.
Venugopal will continue with his submissions on Thursday.
Personalise your news feed. Follow trending topics