What India's 2 Omicron cases reveal: How the variant spread, symptoms, CT value
Dec 03, 2021 05:47 AM IST
No severe symptoms were reported in the first two reported cases of Omicron in Karnataka. The 46-year-old doctor got tested after he complaint of extreme tiredness. The CT value was low in the case of the doctor, reports said.
Two cases of the new Covid variant Omicron have been detected in Karnataka, registering India's first reported case of this new variant which has triggered apprehension across the world, bringing back travel restrictions. Urging people to not panic, the health ministry has cautioned to not lower the guard against the infection. Karnataka chief minister Basavaraj Bommai will hold a high-level meeting on Friday to decide on imposing further restrictions in the state.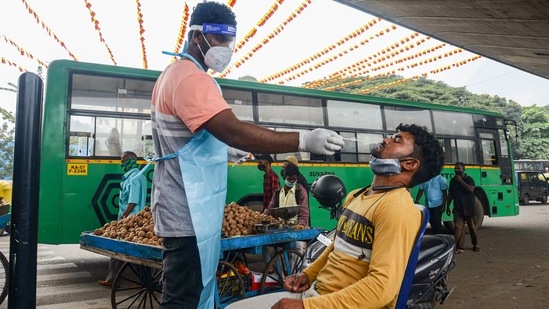 Here is how the two cases were spread, detected
Stay tuned with breaking news on HT Channel on Facebook.
Join Now
Karnataka health minister K Sudhakar earlier told that two cases did not match Delta and the Centre was alerted accordingly. One among them is a 66-year-old male who is a South African national. He came to Bengaluru on November 20 and tested positive. He was isolated in a hotel and got tested on November 23 at a private lab, during which his reports came negative. He left for Dubai on November 27. All his 24 primary contacts and 240 secondary contacts have tested negative.
Omicron cases in India: No travel curbs yet but rules tightened, says MEA
The second person is a 46-year-old doctor working at a government hospital, who has no travel history. He was tested on November 22 as he complained of extreme tiredness, weakness and fever. According to reports, his cycle threshold value was low and his sample was sent to the lab. Three of his primary and two of his secondary contacts have tested positive.
What are the symptoms? How fast the variant is spreading?
According to Karnataka officials, there might be more cases of Omicron in the state as the doctor who tested positive has no travel history.
There were no major symptoms in all the cases.
Experts have observed low CT value in these cases and that is why samples of all international travellers testing positive with low CT value are being sent for genome sequencing.
"How it (Omicron) spreads, we can't say as of now, but there is no need to worry as all the six cases identified so far don't have any major health issues. We have seen the Delta variant, it had intensity, more issues like breathing, such things have not been noticed so far. Symptoms here are mild," the Karnataka health minister said.