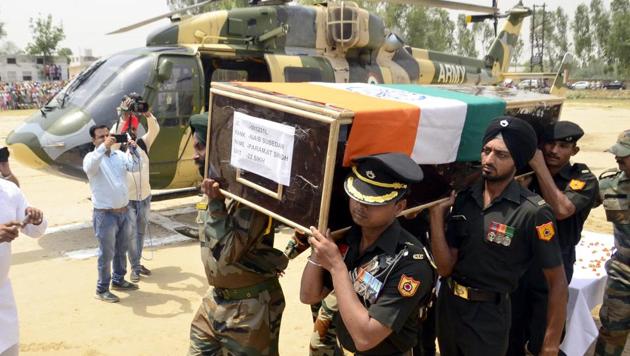 While you were away: Top stories to bring you up to date
Two decisions by the Narendra Modi cabinet, India-Pakistan tensions and an Iraqi painter who has documented the crimes of Islamic State, here's a list of top stories to bring you up to date
Hindustan Times, New Delhi | By HT Correspondent
UPDATED ON MAY 04, 2017 07:53 AM IST
Here's a list of top stories to bring you up to date.
1) Pakistan army 'actively participated' in mutilation of Indian soldiers, says Arun Jaitley
Defence minister Arun Jaitley on Wednesday rejected Pakistan's denial of involvement of its troops in the mutilation of two Indian soldiers, saying all circumstances clearly pointed to the active participation of its army. "I think the denial itself carries no credibility because the entire gambit of circumstances clearly indicates that this barbaric act of first killing two of our soldiers and then mutilating their bodies has been carried out with active participation of the (Pakistani) Army. "The fact that cover firings were provided, those who carried out this act were helped to escape at such a heavily guarded border where posts are within few metres of each other -- this can't happen without the protection, or participation, or active indulgence of the Army," he told reporters.
Read the story here.
2) Maoists attack armoured vehicle of police personnel in Maharashtra, 15 injured
At least 15 police personnel were injured, three of them seriously, after a mine protected vehicle of the C-60 commandos on Wednesday came under a landmine attack allegedly by Maoists in Gadchiroli district of Maharashtra. Officials said the incident took place in the evening near Bhamragad in the district when a patrol party of the C-60 commandos was crossing the area.
Read the story here.
3) Cabinet okays ordinance on amending laws to tackle bad loans in banks
The Union Cabinet on Wednesday approved promulgation of an ordinance to amend the Banking Regulation Act to speed up recovery of bad loans. The move comes after clarion calls from lenders who have been jostling with stressed assets mounting to about Rs 10 lakh crore, or close to 7% of India's GDP, as of December-end. Of the total stressed assets in the banking system, public sector banks are saddled with non-performing assets of Rs 6 lakh crore. The rest of the bad loans have been restructured by lenders.
Read the story here.
4) 7th pay panel: 55 lakh pensioners to benefit as cabinet approves modifications
The Cabinet on Wednesday approved some key proposals concerning modifications in the 7th Pay Commission recommendations that are likely to benefit more than 55 lakh pre-2016 civil, defence and family pensioners. A government spokesperson said the benefits of the proposed modifications would be effective from January 1, 2016 and would take the Centre's annual pension bill to Rs 1, 76,071 crore.
Read the story here.
5) AIADMK leader Sasikala seeks review of SC order holding her guilty in graft case
Jailed AIADMK leader VK Sasikala on Wednesday moved the Supreme Court seeking re-examination of its verdict holding her guilty and sentencing her to four-year imprisonment in a graft case. The review petition filed by Sasikala and two others - VN Sudhakaran, Jayalalithaa's foster son, and Elavarasi, widow of Sasikala's elder brother- has challenged the setting aside of Karnataka High Court verdict acquitting her and restoring the trial court verdict in toto. An advocate privy to the review petition said Sasikala had relied on an earlier apex court verdict of 1991 in which after the death of a prime accused, the proceeding against the co-accused was also abated in a corruption case.
Read the story here.
6) Students clash with security forces in Kashmir's Budgam district
Clashes between students and security forces were witnessed on Wednesday in Budgam district of Kashmir, disrupting normal life, officials said. Students of Government Boys Higher Secondary School boycotted their classes and tried to take out a rally in Budgam town to demand release of students arrested during student agitation over the past fortnight, the officials said. They said the students indulged in stone-pelting after police tried to stop them from marching on the roads, leading to clashes between the two sides.
Read the story here.
7) From aam to khaas aadmis: AAP tells its legislators to smarten up
Lawmakers of the Capital's ruling Aam Aadmi Party (AAP) will moult out of their aam aadmi image and put on a more recognisable neta look to beat a perception that voters fail to notice them because of their "simplicity". The charm offensive follows the party's debacle in the city's municipal elections recently. The MLAs feel the party lost because people didn't notice or recognise them in their constituencies because of their aam aadmi, or common man, image. "I have roamed like a common man in these two years, minus the white khadi suit that politicians of the BJP or Congress usually wear," said Seemapuri legislator Rajendra Pal Gautam, explaining the need for an image makeover to gain public attention.
Read the story here.
8) Captain Amarinder wants three Pakistani heads for each Indian soldier beheaded
Punjab chief minister Captain Amarinder Singh on Wednesday called for a zero-compromise policy by India against inimical forces across the border, even as he dismissed the Khalistani threats against him, saying he would not allow anyone to disturb the state's peace. He said India's response to the beheading of two soldiers in Poonch this week should be clear and unequivocal. "If they (Pakistan) beheaded our jawans, we should follow the same. We should stop being a gentleman's army. If they (Pakistan) cut one of our heads, we should cut three of theirs," he told a TV channel in a free-wheeling interview.
Read the story here.
9) Iraqi painter quietly documented life under Islamic State
After the Islamic State group swept into his town nearly three years ago, Mustafa al-Taee resolved to bear witness to the militants' brutal rule by secretly painting what he had seen with his own eyes. The result was a gallery of horrors: car bombs, dead children, an IS defector beheaded in a public square, a former police officer strung up by his legs for hours before being shot dead. "They committed countless crimes and those crimes needed to be documented," said the 58-year-old grandfather, speaking in his home in the northern town of Hamam al-Alil, near the city of Mosul. "There were no journalists, no cameras."
Read the story here.
10) EU, Britain clash over Brexit bill
The EU's chief Brexit negotiator Michel Barnier warned on Wednesday that negotiations will not be quick or painless, as Brussels and London traded blows over the size of Britain's exit bill. Unveiling his negotiating mandate for two years of talks, France's Barnier denied the bloc was punishing Britain but insisted it must settle its accounts. London in return hotly rejected a reported €100 billion bill from the other 27 European Union states and warned it could simply walk away from negotiations if bullied.
Read the story here.
11) IPL 2017: Rahul Tripathi special helps RPS hand KKR 2nd loss in a row
Rahul Tripathi's brilliant 52-ball 93 steered Rising Pune Supergiant to a four-wicket win over Kolkata Knight Riders and lifted the Steve Smith-led side to third in the IPL 2017 points table.
Read the story here.
Close