Why was Sanjay Dutt released early? Bombay HC asks Maharashtra govt
Jun 13, 2017 12:25 AM IST
Bollywood actor Sanjay Dutt was sentenced to five years in jail for possession of arms in connection with the 1993 serial blasts case.
The Bombay high court asked the Maharashtra government on Monday to explain why it released actor Sanjay Dutt, serving a sentence over the 1993 bombings, eight months early.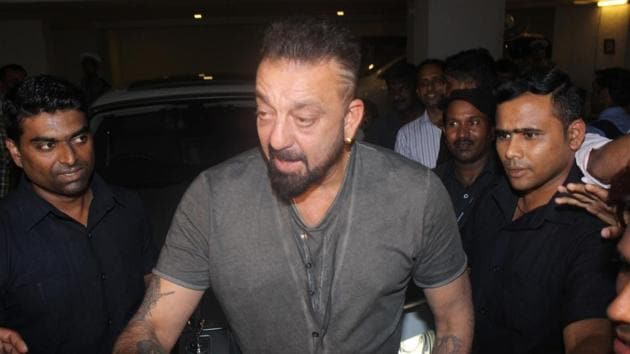 Dutt, sentenced in 2013 to five years in jail for illegally holding and destroying a rifle, was let out eight months early in February 2016 on account of what the government said was his "good conduct" in Yerwada prison.
The bench of justice RM Savant and justice Sadhana Jadhav asked the government to file an affidavit detailing the "parameters considered, and the procedures followed" in arriving at the conclusion that Dutt deserved leniency.
"Was the DIG prisons consulted or did the jail superintendent directly send his recommendation to the governor? Isn't there a uniform procedure followed for all prisoners who receive good conduct reports? " the bench asked.
"Also, how did the authorities assess that Dutt's conduct was good? When did they get the time to make such assessment when he was out on parole half the time?" the bench said.
The court was hearing a petition filed by activist Pradeep Bhalekar, challenging Dutt's early release and questioning the frequent paroles granted to him while he was in jail.
Bhalekar's counsel Nitin Satpude said there are several convicts who secure a good conduct report from prison authorities, but are not granted remission or early release.
According to the plea, around 400 convicts across the state have secured good conduct reports.
The state government told the court that jail authorities consent to an early release for prisoners who display exemplary conduct while in jail. However, it said the usual practice was to "grant them a remittance of 114 days" that comes to about three-and-a-half months. "We just want to understand your decision making process," the court said in return.
Dutt was serving a five-year sentence in Yerawada central prison in Pune for illegal possession and destruction of an AK-56 rifle in 1993 serial blasts case.
Even while he was serving the sentence, Dutt had been out of prison for about six months on frequent furlough leaves and parole.