'Will Twitter have guts?': Jairam amps up attack on minister over Pfizer Covid vaccine
Jan 21, 2023 01:24 PM IST
Union minister Rajeev Chandrasekhar shared a video on Twitter on Friday about Pfizer CEO Albert Bourla's encounter with a journalist at Davos 2023, and blamed Congress leaders Jairam Ramesh, Rahul Gandhi and P Chidambaram for pushing the case of foreign Covid-19 vaccines in India.
Congress leader Jairam Ramesh on Saturday doubled up his attack against Union minister Rajeev Chandrasekhar over the latter's claim that the opposition leaders were pushing the case of foreign vaccines in India after the Covid-19 pandemic struck. Taking to Twitter, Ramesh blamed Chandrasekhar of misusing social media "atrociously to peddle lies" on him and his colleagues.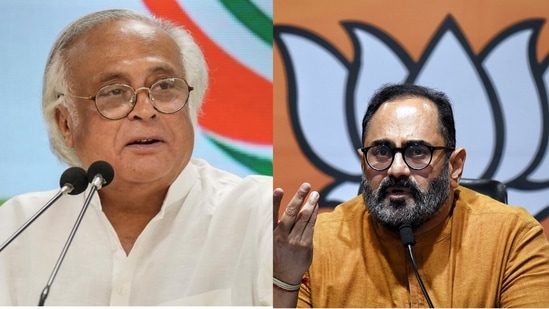 "We won't take it lying down, meanwhile I wanted to call you out for what you really are. Will Twitter have the guts to expose you?" Ramesh tweeted.
Also Read | Jairam Ramesh praises New Zealand PM: 'Indian politics needs more like her'
The Congress veteran's fresh statement was in addition to his response on Friday to the Union minister's claim. In a tweet, Ramesh hit back at Chandrasekhar after he called him out along with Congress MP Rahul Gandhi and former Union finance minister P Chidambaram for pushing the case of foreign Covid-19 vaccines.
"Let not your ambition to climb the greasy pole make you more of a liar than you are," Ramesh tweeted on Friday.
The war of words between Chandrasekhar and Ramesh broke out after the Union minister shared a video clip of US-based pharmaceutical company Pfizer's CEO Albert Bourla's short interview with a journalist at Davos, Switzerland, where the five-day World Economic Forum Summit 2023 concluded on Friday.
A Rebel News journalist shot a barrage of questions at Bourla, who appeared visibly flustered in the video and consistently dodged those. Among the questions the journalist asked the Pfizer CEO, one was why the vaccine manufacturer kept from revealing that its vaccine did not stop transmission of the Covid-19 virus. He was also heard asking Bourla if it was time for Pfizer to apologise to the world and to give refunds to the countries that purchased the vaccine that did not yield results.
Bourla, however, only said "thank you very much" and "have a nice day" to the journalist.
Chandrasekhar shared this video on Twitter and wrote, "Just to remind all Indians, that Pfizer tried to bully Govt of India into accepting conditions of indemnity. And Cong trio of Rahul, Chidamabaram n Jairam Ramesh kept pushing case of foreign vaccines during Covid."
Pfizer and the Indian government have been at loggerheads starting 2021 when the vaccine administration and rollout was at peak worldwide. The pharma firm demanded a legal protection from any claim connected to side effects of its Covid-19 vaccine, which it had obtained in several countries, including the UK and the US, but India refused to give in.
A post by Chidambaram from December 2021 showed the former Union minister taking a dig at the "protectionist policy" of the PM Narendra Modi-led central government due to which, he said, only three vaccines for Covid-19 - Covaxin, Covishield and Sputnik - have been approved in India.
"Of the three, you can write off Sputnik because only a small quantity was imported in the initial days," he tweeted.
"We are left with 2 vaccines thanks to the PROTECTIONIST policy of the Modi Government. Pfizer, Moderna and other WHO-approved vaccines are kept out of India on one pretext or other, which is why we don't have enough vaccines to administer 2 doses to the 94 crore adult population," Chidambaram's post on the micro-blogging site further read.
As part of India's nationwide Covid-19 vaccination drive, more than 200 crore doses have been administered to eligible beneficiaries till now. This has primarily been achieved through indigenously manufactured vaccines.