Won't link phone to Aadhaar, let them disconnect: Mamata Banerjee
Oct 25, 2017 11:20 PM IST
Bengal chief minister urges party workers to protest by also ignoring Aadhaar-phone link directives
Bengal chief minister Mamata Banerjee lashed out at the Centre on Wednesday, saying she will not link Aadhaar to her phone number and dared authorities to "disconnect it if they wanted to".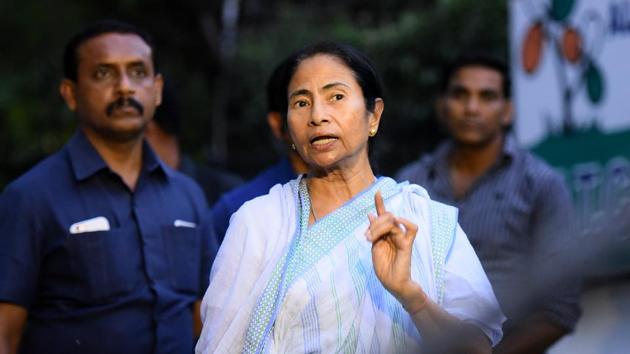 Banerjee, the chief of Trinamool Congress, also urged an audience of about 3,000 party workers and leaders not to link the two.
The Aadhaar, a 12-digit identity number given to people who enrol with their biometric details, has been a matter of controversy for political parties and privacy advocates who believe the programme gives government indiscriminate power.
"Under no circumstances will I link my Aadhaar with my telephone number. If the authorities disconnect my phone, let them do it. It will actually save me a lot of trouble as I won't have to go through a number of text messages," she said.
She was speaking at an extended core committee meeting of Trinamool Congress in Kolkata.
"I would urge you to protest in a similar manner. How many telephone connections will they disconnect?" she said, indicating she would urge the common people to do the same.
"What does BJP want? Do they want to listen to people's secrets. It's a direct attack on privacy."
Describing the decision to link the two as an attack on privacy, she said, "I am not bound to make all my personal conversations public. After you link Aadhaar with your phone, even personal conversations between husband and wife will reach the BJP office. We are taking up the issue in and out of the Parliament. If need be, we may fight it legally too."
The Bengal chief minister also pointed out that her party has already accepted the decision to link Aadhaar with PAN since it involves income tax collection.
The meeting was held at Nazrul Mancha, an indoor stadium in south Kolkata in which MLAs, MPs, civic body chiefs, zilla parishad sabhadhipatis were present.
The meeting became the platform for presenting the party's blueprint for the rural polls in 2018 and Lok Sabha elections the following year. These elections are significant since it is being considered as a rehearsal for the crucial 2019 Lok Sabha polls.
BJP president Amit Shah has said Bengal is one of the focus states, and wants to secure at least half of the 42 Lok Sabha constituencies in the state. In 2014, it won only two. Mamata Banerjee's party managed to stop the Modi wave at the borders of Bengal.