'You are all militants, won't let you live here': Kashmiri students face abuse outside valley
Updated on Jul 28, 2017 11:46 AM IST
#LetsTalkAboutHate | Kashmiri students who travel in search of education often become targets of hate crimes.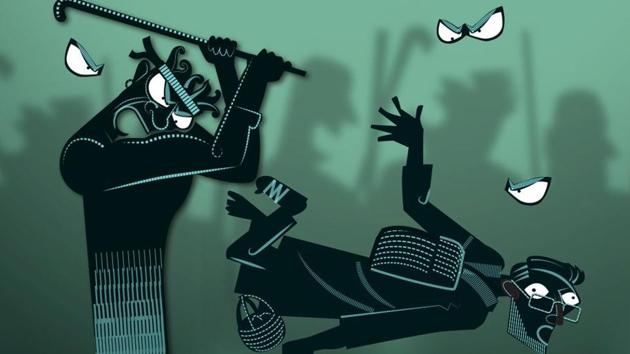 Shakib Ashraf was arrested after a mob alleged he had cooked beef in his university hostel. The meat was later revealed to be mutton after a lab test by the police. Umar Rashid was thrashed after he told two people that he was from Kashmir. Kaleemullah was called a "terrorist" after an altercation with another student. Mujahid Zahid was beaten with wooden sticks and logs. Bahar Ahmed Giri was told to go back to Kashmir by locals at a market. All of these incidents, drawn from reports in national newspapers, took place in the last one year in Rajasthan, Haryana and Madhya Pradesh.
These names represent just a handful of the Kashmiri students who travel every year across the country for education, employment, and security. Their dreams are facilitated by the central government through the Prime Minister's Special Scholarship Scheme for Jammu and Kashmir. Launched in 2011 with a grant of Rs 1,200 crore, it funds five thousand students from the state annually.
But once they leave Kashmir, these students often face vicious verbal and physical abuse. Many end up returning home more alienated than they were to begin with. The whopping sum of federal funds has not made integration any easier.
Prejudice against Kashmiris isn't new. But conversations with young Kashmiris in North India suggest that the anti-Kashmiri sentiment has amplified. There has been a surge of nationalism in India. As a result, the violence and political strife associated with the Valley are constant threats for Kashmiris even when they are outside Kashmir.
On April 12 this year, a video of a CRPF jawan being beaten by youth in Budgam went viral. The country erupted in condemnation.
A few days later, a group of around half-a-dozen Kashmiri students at Mewar University in Chittorgarh, Rajasthan, were beaten with hockey sticks at the local market. Three were seriously injured. Their attackers called them "terrorists".
Tauseef Ahmed, 20, the roommate of one of the victims, said that the horror didn't end there. "When we took them to the hospital, a group of locals barged in and said, 'You are all Kashmiri militants. We won't allow you to live here.'"
For two months, Tauseef said, they were not allowed to leave the campus by the college authorities, who feared for the students' safety. "Our parents send us [out of the state] to protect us from the turmoil of Kashmir — arrests and stone-pelting," said Tauseef. But, he added, such attacks mean "we are not safe even outside Kashmir".
Mudassir Rasool, 30, has also suffered personally from the increasing estrangement between Kashmiris and average Indians. The 2016 summer unrest led to a 52-day curfew in the Valley. News reports said this was the longest in Kashmir's history. Having worked at a travel agency in Delhi in 2008, he decided to move back for employment opportunities.
During the shutdown, it was not easy to leave Rafiabad, his hometown in western Kashmir. "The airport was 60 kilometres away from my home so in the dead of the night, I hid in an apple truck that was leaving for the plains," Mudassir recounted.
Once there, Mudassir enrolled himself in the Udaan project, another central government initiative for Kashmiris. The Rs 750-crore program aims to help unemployed youth with skill training and to connect them with corporations.
About 25 days into Mudassir's skill training with a private company in Noida, he had a petty but angry argument with a colleague about work at the office. But what began as a routine office dispute ended, Mudassir said, in a physical assault. The colleague he argued with banded together with three other men and accosted him when he stepped outside office for some food. They beat him and threatened to hit him with bricks, "like you do in Kashmir".
"No one came to my rescue," said Mudassir. "I remembered the Dadri lynching and was worried for my life." He pulled himself free from the attackers and ran back into his office, where he complained to a senior.
Unconvinced that the company would do anything, he tried to register an official complaint. But the apathy of the bystanders who witnessed his beating was also evident in the response from the government. He was rebuffed by multiple police officials and helplines set up for Kashmiris. Finally, "the police and company officials scared me into accepting a compromise calling it a 'scuffle'," Mudassir said angrily. "But it was also about my Kashmiri identity."
After a stint working as a researcher at Google, Mudassir returned to Kashmir in April 2017. He is worried for his two younger brothers studying in Uttar Pradesh. "Most ordinary Indians have not travelled to Kashmir or know much about the problem. Their impression of us is based on media reports, which are adding fire to this hate."
Tauseef also plans to go back to Kashmir or abroad after he graduates. "Why is the government giving us scholarships if it can't keep us safe, if people can't accept us?" he asked. "We are only trying to make a future in India."
This is Part 3 of Let's Talk About Hate, an HT series that looks at the different complexions of hate crimes such as race, religion, identity. Follow us at @httweets for updates or send your suggestions at hatetracker@hindustantimes.com.