ICC anti-corruption official grills sacked Pune curator Pandurang Salgaonkar
The ICC ACU co-ordinator of investigations, Steve Richardson, travelled to Pune on Thursday to question sacked curator Pandurang Salgaonkar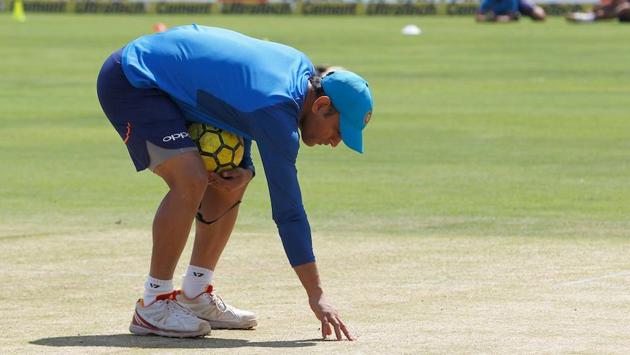 Published on Oct 27, 2017 11:56 AM IST
A senior ICC Anti-Corruption Unit (ACU) official questioned sacked Pune pitch curator Pandurang Salgaonkar on Thursday over his comments in a TV sting aired ahead of the second India-New Zealand ODI.
The ICC ACU co-ordinator of investigations, Steve Richardson, travelled to Pune on Thursday to probe the controversy in which India Today TV claimed Salgaonkar had told its reporters posing as bookies that he can alter the pitch condition to help them place bets.
"ICC's top ACSU official, Steve Richardson, has reached
Pune today. Along with Bir Singh (the ICC ACU official for the ongoing series), Richardson will carry out the investigations. He has already spoken to Salgaonkar and will also speak to the two India Today reporters who carried out the sting," a top BCCI official told PTI on condition of anonymity.
READ | BCCI Anti Corruption Unit closely monitoring pitch preparation after Pune TV sting
"At this point, he has not been pronounced guilty. The ICC will only take a call once Richardson submits his report," the official added.
In Kanpur, venue of the final ODI to be played on Sunday, the BCCI has stepped up vigilance. However, the BCCI ACU said it will not conduct any official investigation into the issue and that it was ICC's prerogative.
Head of BCCI ACU, Neeraj Kumar, told Hindustan Times: "BCCI has nothing to do with what happened in Pune. The ICC ACU is already probing the issue. It is their call, to do things on their own."
However, Board sources said its ACU and other officials will be closely tracking the investigation. "We aren't officially involved but we are well aware of each and everything," a BCCI official told Hindustan Times on condition of anonymity.
"In fact, alongside ICC's ACU, we are having our own search and research on the issue as it's also related to the image of BCCI world over and that of Indian cricket, including former cricketers like Salgaonkar who are involved in various segments of the game."
READ | India vs New Zealand: Kanpur officials tread cautiously post Pune 'pitch-fixing'
On Wednesday, Salgaonkar was dismissed by the Maharashtra Cricket Association before the match, which started after ICC Match Referee Chris Broad cleared the pitch as fit.
A Board source said besides his recent activities, past activities of Salgaonkar are also being investigated. "Did he do anything wrong in the past is also a matter of investigation."
The Committee of Administrators (CoA) chief, Vinod Rai, had defended BCCI's anti-corruption unit on Wednesday, saying a three-member team can't be expected to monitor everything.
"There were irregularities on all fronts, so a full scale inquiry has been ordered. ACU has only three people, so they can't be everywhere," Rai told reporters on Wednesday.
(With inputs from PTI)
Close Story