India vs Sri Lanka: Hosts told to ignore trolls over 'slump'
Colombo |
Agence France-Presse
Aug 08, 2017 11:43 PM IST
Fans have been roasting the Sri Lankan cricket team after their recent performances, which included their first home series defeat to Zimbabwe -- who hadn't won a series overseas in eight years.
Sri Lanka's cricketers have been urged to ignore trolling on social media after a dismal run of results triggered a wave of criticism -- with even a government minister poking fun online.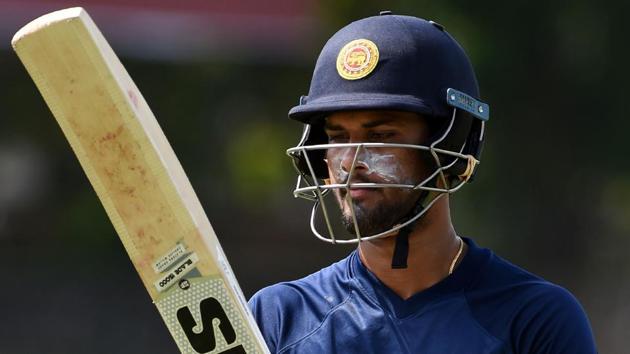 Team mentor Aravinda de Silva said players should not be disheartened ahead of the third Test against India starting on Saturday, despite their innings and 53-run loss in last week's second Test.
(Read | Ravindra Jadeja continues to dominate ICC rankings, becomes top Test all-rounder)
Sri Lanka were also hammered by 304 runs in the first Test, which came after they humiliatingly lost a home one-day series to bottom-ranked Zimbabwe, and made an early exit from the Champions Trophy in June.
Young players should "not to be discouraged by extraneous elements that seek to demoralise them via social media and gossip sites", said former captain de Silva, according to a Sri Lanka Cricket statement.
(Read | India vs Sri Lanka: Unfit Rangana Herath ruled out of 3rd Test)
Fans have been roasting the Sri Lankan team after their recent performances, which included their first home series defeat to Zimbabwe -- who hadn't won a series overseas in eight years.
One post jokes that Sri Lanka won the second Test because they had two innings to India's one. Another says the hosts threw the match because they didn't want to play on the fifth day, which was a Buddhist holiday.
(Read | Sri Lanka appoint Rumesh Ratnayake as head fast bowling coach)
Government minister Harsha de Silva tweeted a picture of himself with Indian skipper saying: "Told Virat Kohli #India Cricket to go easy on #SriLanka next Test. 600 a bit too steep."
The jokes extend a rough ride for Sri Lanka's team, who were accused of having "pot bellies" by the country's sports minister after they failed to reach the semi-finals of the eight-team Champions Trophy.
Sri Lanka Cricket said the players met with top officials and coaches on Monday in an attempt to regroup.
(Read | Is BCCI ready to contest Kerala High Court order on S. Sreesanth? asks Manjrekar)
"Sri Lanka are currently facing what is perceived to be a 'slump' in their performance and ranking," the board said.
The board is trying to rectify "a series of administrative and strategic missteps over the past several years", it added.
Chief selector Sanath Jayasuriya pleaded for more time to deliver results and urged "everyone to stay focused and remain positive with the 2019 World Cup as their singular goal".
Sri Lanka's former coach Graham Ford noted in February last year that he faced a huge rebuilding task in his second stint with the team. He quit the role in June, with his deputy Nic Pothas now acting as interim coach.
Batting stars Mahela Jayawardene and Kumar Sangakkara both retired from international cricket in 2015, and Sri Lanka have been struggling to fill the vacuum.