India vs Sri Lanka: Rohit Sharma unfazed by fight for spots ahead of first Test
Updated on Jul 24, 2017 07:14 PM IST
Rohit Sharma isn't bothered by the competition for spots in India's Test side, saying ahead of the first Test against Sri Lanka that competition for spots makes everyone play better.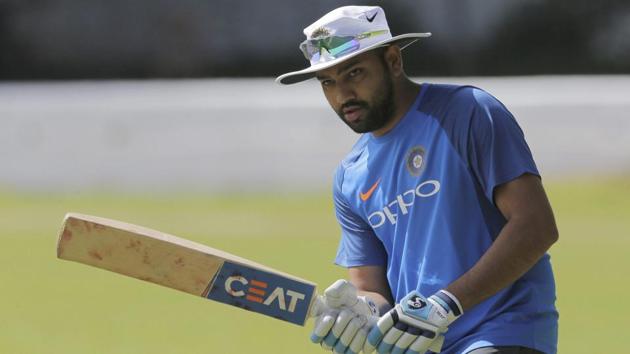 Even if you have hit three successive half-centuries in your last three Tests, like Rohit Sharma did against New Zealand before his long injury lay-off, making a comeback into this Indian team will be no cakewalk.
Going into the opening Test of the series against Sri Lanka starting on Wednesday, Rohit Sharma had little chance of making it to the playing eleven if all the players were available.
However, India suffered a big setback after opener KL Rahul, on an injury comeback, was ruled out due to illness. It makes Rohit a strong replacement candidate to fit into the batting line-up if the Indian team management looks at re-jigging the opening combination.
Re-jig line-up
One option they will have is to play Cheteshwar Pujara at the top of the order with regular opener Abhinav Mukund or Shikhar Dhawan. Pujara has opened earlier, most famously in the third Test of the 2015 series in Sri Lanka when he got an match-winning 145.
If they play Shikhar and Abhinav, Rohit Sharma is likely to miss out unless skipper Virat Kohli goes in with a four-bowler combination. That is unlikely as both coach Ravi Shastri and Virat prefer a five-bowler attack.
READ | India vs Sri Lanka: KL Rahul to miss first cricket Test at Galle
At the nets on Monday, Rohit batted with the batch of middle-order batsmen, alongside Virat Kohli and Ajinkya Rahane, with Shastri watching intently and pointing out a few things at the end.
The Mumbai batsman missed the major part of the long home season in 2016-17 due to an upper thigh injury, and if he gets a chance it will be his first Test since October 2016.
Competition no issue
In the only warm-up match ahead of the series, played last week, all the Indian batsmen helped themselves to runs except Mukund and Pujara. Rohit got into groove before retiring on 38.
After the knock against Sri Lanka President's XI last week, Rohit Sharma said he welcomed competition for places and avoided thinking too much about it. "It's very simple; the fight for that spot will always be there whichever format you play, and it's good for cricket and good for your team when you have that healthy competition. It makes everyone step up to the challenge all the time.
READ | On 50th Test, Ravichandran Ashwin back at venue that started 'golden phase'
"For me, if the opportunity comes, I will try to make the most of it. I would rather not think too much about whether I will be playing or not, which number I will bat, things like that."
"It doesn't work for me, thinking too much about all those things. Whatever is in my control, I try and think about those things and it works for me. I try and always stick to my strengths, things that I have been doing over the years and that has helped me be wherever I am today," he added.