1,400 killed as massive quake hits Nepal, sends tremors across borders; rescue operations on
A powerful earthquake struck Nepal on Saturday, killing at least 1,400 people across a swath of four countries as the violently shaking earth collapsed houses, levelled centuries-old temples and triggered avalanches on Mt. Everest. The quake measuring 7.9 is the strongest to hit the country in 81 years.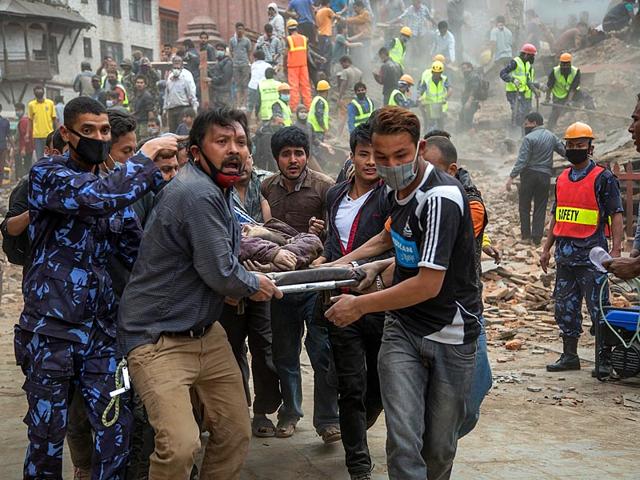 Updated on Apr 26, 2015 07:32 AM IST
A powerful earthquake struck Nepal on Saturday, killing at least 1,400 people across a swath of four countries as the violently shaking earth collapsed houses, levelled centuries-old temples and triggered avalanches on Mt. Everest.
The 7.9 magnitude earthquake, Nepal's worst in 81 years, left a trail of destruction from the alleys of Kathmandu to remote mountainous areas as a breakdown in communications hampered relief efforts and raised fears of a humanitarian disaster across the Himalayan nation of 28 million people.
At least 1,341 people were confirmed dead across Nepal, according to the police. Another 52 were killed in India, 12 in Tibet and two in Bangladesh. Two Chinese citizens died on the Nepal-China border. The death toll is almost certain to rise, said deputy inspector general of police Komal Singh Bam.
The toll was likely to rise with Nepal finance minister Ram Sharan Mahat tweeting:
Residents ran out of homes in panic after walls crumbled, power lines collapsed and large cracks opened up on streets following the earthquake with its epicentre 80 km east of Nepal's second-largest city, Pokhara.
As night fell, Kathmandu residents huddled by the roadside wrapped in blankets and firesides, saying they were afraid to return to their homes because of the aftershocks rattling the region.
"The ground underneath me was shaking. I thought I was going to sink into it," said Hari Adhikari, a 60-year-old vegetable seller in Kathmandu.
Indian tourist Devyani Pant was in a Kathmandu coffee shop with friends when "suddenly the tables started trembling and paintings on the wall fell on the ground. "I screamed and rushed outside."
It was a few minutes before noon local time when the quake began to rumble across the densely populated Kathmandu Valley, rippling through Kathmandu and spreading in all directions -- north toward Tibet, south to the Indo-Gangetic plains, east toward the Brahmaputra delta and west toward India-Pakistan. A magnitude-6.6 aftershock hit about an hour later, and smaller aftershocks continued to jolt the region for hours.
Reports of about 300 Indians stranded in Nepal also emerged as the air force prepared to launch an evacuation operation.
The quake also briefly disrupted operations at Kathmandu's international airport and several flights were diverted to Indian cities while some flights from India to Nepal were cancelled.
An Indian embassy employee's daughter died and wife suffered serious injuries when a house in the mission complex in Kathmandu collapsed during the powerful earthquake.
A house in our Embassy complex collapsed. Unfortunately, the daughter of our employee Madan has died. His wife's condition is serious.
Death of another Indian was reported from a hospital in Kathmandu.
Aleast 18 people were also killed when an avalanche, unleashed by the earthquake, swept through the Everest Base Camp for climbers of the world's highest mountain. Base camp was crowded with foreign mountaineers and their Sherpa teams at the start of the climbing season when the avalanche hit, destroying camps and sending slabs of ice crashing.
Climbers on Mount Everest pleaded for help after the avalanche. "Running for life from my tent. Unhurt. Many many people up the mountain," tweeted Romanian climber Alex Gavan who had been preparing to ascend nearby Lhotse, the world's fourth highest peak.
"Huge disaster. Helped searched and rescued victims through huge debris area. Many dead. Much more badly injured. More to die if not heli asap," he later tweeted.
Yoga guru Ramdev had a narrow escape when a stage collapsed during an event in Kathmandu.
At the main hospital in Kathmandu, dozens of people with broken limbs and other injuries were rushed in for treatment. TV news channels showed more than 30 bodies at the hospital. Crowds and volunteers formed human chains to clear the way for ambulances to bring in the injured.
Photographs posted on Twitter showed buildings reduced to piles of rubble, large cracks on roads and highways and crowds of people gathering in open spaces after the quake.

Around 300,000 foreign tourists were estimated to be in Nepal for the spring trekking and climbing season and officials were overwhelmed by calls from concerned friends and relatives.
"We have been flooded with phone calls from all around the world," Mohan Krishna Sapkota, joint secretary in the Nepal tourism ministry, said. "We are facing a tremendous crisis here and it is hard to even assess what the death toll and the extent of damage could be."
The historic Dharara Tower collapsed in Kathmandu and one policeman said up to 200 people had been trapped in the structure built in 1832 for the queen of Nepal. The 60-metre tower with a viewing balcony was reduced to a jagged stump just 10 metres high.
Video: Injured people treated outdoors as Kathmandu hospital accommodates rush of quake victims
Footage from Nepal's Kantipur TV channel showed Nepalese soldiers digging through the rubble of collapsed buildings with their hands and people rushing the injured to hospital.
"I can see three bodies of monks trapped in the debris of a collapsed building near a monastery," said Pant, the Indian tourist. "We are trying to pull the bodies out and look for anyone who is trapped."
The US Geological Survey (USGS) initially said the temblor measured 7.7 but later upgraded it to 7.9-magnitude. It said the quake hit at 11:56 am local time (0611 GMT) at a shallow depth of 15 km.
"The epicentre of the first quake was Bartak in Gorkha district. It took place at 11:56 am. There were 10 major aftershocks measuring over 5 in the next two and half hours," said Lok Bijaya Adhikari, chief of the National Seismological Centre.
Two major aftershocks, one measuring 6.6 and another 5.8, hit Gorkha and Rasuwa within 40 minutes of the quake.
"The quake resulted in connectivity problems for the initial 30 to 40 minutes and therefore there was a problem in getting information. We are now receiving reports of damage from many places," said Nepal Police spokesperson Kamal Singh Bam.
Educational institutions and offices were closed since Saturday is a weekly off in Nepal. Authorities said the casualties could have been higher if it was a working day and the quake had hit at night. "The aftershocks are likely to continue for two to three more days as the accumulated energy that resulted in the quake gets fully released," said Adhikari.
The old quarters of Kathmandu is a warren of tightly packed, narrow lanes with poorly constructed homes. Nepal's lack of disaster preparedness, the decrepit buildings packed along lanes and large families who live in these homes make a major earthquake a serious concern.

Tremors were felt as far away as New Delhi and other northern and eastern cities in India, including Lucknow, Bhopal, Kolkata and Guwahati. At most places, the tremors reportedly lasted between 45 seconds and one minute. The quake also jolted the eastern Pakistani city of Lahore.

"We are in the process of finding more information and are working to reach out to those affected, both at home & in Nepal," Prime Minister Narendra Modi tweeted.

In Delhi, people came running out of buildings when the jolts were felt around 11.40am. The tremors lasted almost 45 seconds. An aftershock was felt after 30 minutes.
Helpline numbers:
24-hour control rooms: +91 11 2301 2113, +91 11 2301 4104, +91 11 2301 7905
Indian Embassy in Kathmandu: +977 9851107021, +977 9851135141
(With agency inputs)
Read | Nepal earthquake triggers Everest avalanche, climbers at risk
Nepal earthquake: 20 feared dead, many injured in north and east India
Close Story