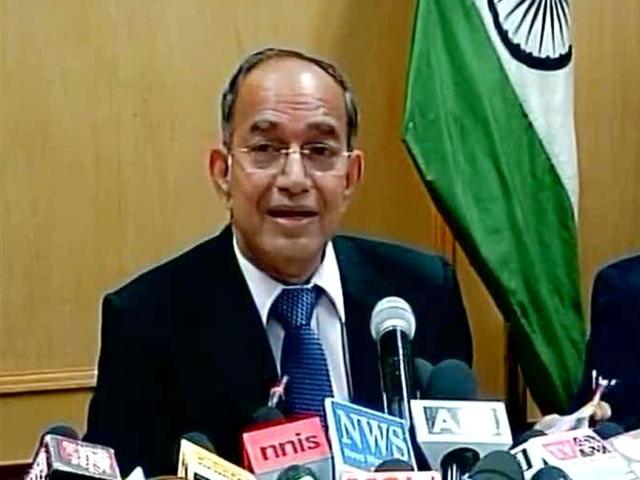 9-phased LS poll process from April 7 to May 12; results on May 16
The EC on Wednesday announced the schedule for the LS polls saying they will be held in nine phases from April 7, 2014 to May 12, 2014. The counting of votes to be held on May 16 and will be over in a day. HT Poll: Are you happy with LS polls in nine phases?
UPDATED ON MAR 08, 2014 06:21 PM IST
The Election Commission on Wednesday announced the schedule for the 2014 Lok Sabha elections saying they will be held in nine phases from April 7, 2014 to May 12, 2014.
Chief election commissioner VS Sampath announced the dates in a press conference. The two election commissioners HS Brahma and SNA Zaidi were also present.
The counting of votes to be held on May 16 and will be over in a day, Sampath told reporters.
The first date of poll shall be on April 7, 2014 which will be held in two states and six parliamentary constituencies will be covered. The second phase of poll on April 9 will cover seven constituencies in five states. The third phase on April 10 to cover 92 constituencies in 14 states and the fourth day of poll on April 12 to cover three states and five constituencies.
The fifth will be on April 17 which will cover 13 states and UTs and 122 constituencies and sixth phase will be on April 24, covering 12 states and 117 constituencies.
Read: Money power causing concern: VS Sampath
The seventh phase will be held on April 30 to cover nine states and 89 constituencies, eighth phase on May 7 will cover seven states and 64 constituencies and the last and ninth phase on will be on May 12 and cover 3 states and 41 constituencies.
He said that the model code of conduct has come into immediate effect. It prevents the government from making any decisions that can be seen as influencing voters. It also prohibits political parties from making unsubstantiated allegations against opponents.
Photos: The great Indian elections
He said that the total number of electorate this year stands at 81.4 crore and has increased by 10 crore as compared to the last parliamentary elections in 2009.
The chief election commissioner also said there has been a 12% increase in the number of polling stations in the country with 9,30,000 stations this year. There were 8.3 lakh stations in the last elections.
CATCH LIVE COVERAGE: ANNOUNCEMENT OF LOK SABHA ELECTION SCHEDULE
Andhra Pradesh, including the regions comprising Telangana, Odisha and Sikkim will go to polls to elect new assemblies.
Election commissioner Brahma said that all Maoist-hit areas will be covered in a single day across India.
Read: Indians urged to vote in 'informed, ethical manner'
The decision to announce the dates to elect 543 members to Lok Sabha was taken after a series of meeting by Sampath on Tuesday and firming up of the security plan.
In a first for general elections, voters will also be able to reject all candidates with None Of The Above (NOTA) buttons on 1.5 million electronic voting machines (EVMs).
The EC will also experiment with verifiable paper trail system with EVMs in about 10,000 polling booths.
LOK SABHA POLL SCHEDULE
The general elections for the 16th Lok Sabha will see the ruling UPA, with 232 members in Lok Sabha, face a spirited challenge from the Bharatiya Janata Party-led National Democratic Alliance (NDA). The NDA has 132 members in the present House.
Read: An election of contrasts to celebrate the Indian Republic
Read: Race for magical 272: Who is bigger - Modi or Rahul?
The BJP drew the battle lines early by declaring Gujarat chief minister Narendra Modi as its prime ministerial candidate in September last year.
The Congress has resisted internal clamour to name party vice-president Rahul Gandhi as its PM candidate.
The summer elections will also see the national debut of the Aam Aadmi Party under Arvind Kejriwal, who has already declared a 40-day whirlwind election tour of the country.
The Left-backed Third Front -- of 11 parties -- is also trying to become a formidable force.
The term of the current Lok Sabha expires June 1 and a new House has to be constituted by May 31.
The general elections in 2009 were held in five phases from April 16 to May 13. Votes were counted on May 16.
"I appeal to all stakeholders, parties and candidates to uphold democratic traditions of nation," Sampath said.
Watch video: BJP will get clear majority in LS polls, says Rajnath
HT Poll: Are you happy with EC's decision to hold 2014 Lok Sabha polls in nine phases?
Election map

Roll over the map to find poll dates, phases in which the poll would be conducted and total number of constituencies of all the states.
Close