High five: Mystery of Guillermo Ochoa's 6th finger removed
The world has rarely seen a better goalkeeping display at the World Cup than that by Mexico's Guillermo Ochoa in his side's 0-0 draw with Brazil on Tuesday. Ochoa did not let anything through as he stood at the goalpost; but was it because the Mexican has six fingers in his right hand? The answer is no. Ochoa: How Mexico's great wall restricted Brazil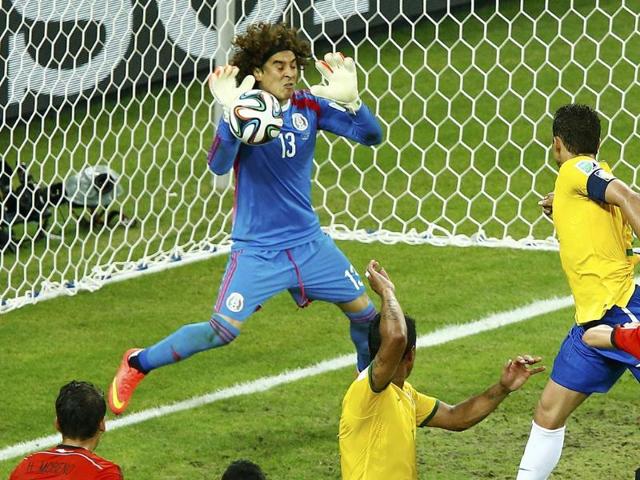 Updated on Jun 18, 2014 06:19 PM IST
The world has rarely seen a better goalkeeping display at the World Cup than that by Mexico's Guillermo Ochoa in his side's 0-0 draw with Brazil on Tuesday. Ochoa did not let anything through as he stood at the goalpost; but was it because the Mexican has six fingers in his right hand? The answer is no.
Soon after Ochoa's heroics helped Mexico frustrate the tournament hosts, Twitter lit up with posts claiming he had six digits in one hand. The bizarre claim was fuelled by a meme which showed a suspect (read photoshopped) image of Ochoa's right hand next to a six-finger glove. This resulted in a flurry of baffled tweets throughout the night:
The rumours seemed to have originated from a blog post published in 2010 that claimed Ochoa was denied a place in Fulham after gaming authorities learnt about his 'polydactyly' (a condition in which a person or animal has more than five fingers or toes on one, or on each, hand or foot).
"Ochoa has six fingers on his right hand and consequently wears a specially made glove by sponsors Nike. Fulham were obliged to register this abnormality with the FA who in turn ruled his gloves were illegal due to their size as this gave him an unfair advantage over his opponents," the post on mexico.worldcupblog.org read.
The blog post was clearly a hoax, and it was Ochoa himself who battered its claim, though unwittingly. He waved to the crowd after his majestic performance on Thursday with his right-hand glove off, and if our counting method conforms to the standard practice, his hand had five fingers.
The hoax meme fell flat within minutes of its appearance on social networking platforms, but it wasn't merely defied by fact. The creators of the hoax, probably too excited to spark a viral phenomenon, accidentally posted an image which showed a six-finger glove next to Ochoa's photo which had five digits in his right hand. The meme was later deleted by a popular comic handle.
The Mexican goalkeeper said after the draw with Brazil that it "undoubtedly" was the best match of his life. Mexico - in a state of frenzy, all thanks to Ochoa's heroics - will feel their chaotic qualifying campaign is behind them and that they can get a point from Croatia to put them into the knock-out stages for the sixth consecutive World Cup.
Close Story