India bites the $18.6 billion high speed bullet
Updated on Dec 13, 2015 12:57 AM IST
The 505 kilometre distance from Mumbai to Ahmedabad at an estimated cost of Rs 988,050 million ($18.6 billion) will be covered in 2 hours.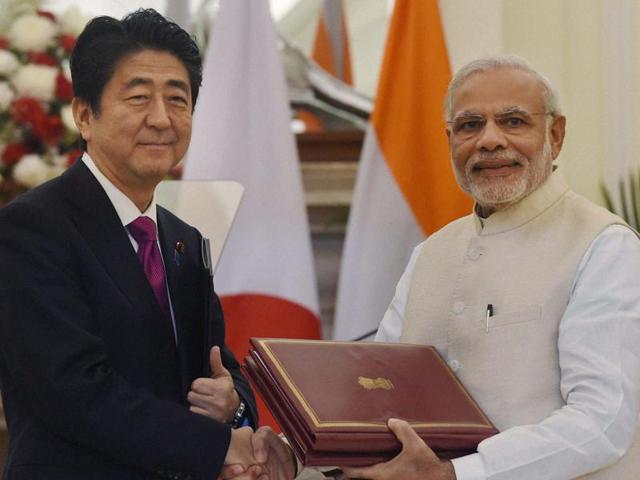 India has bit the bullet with a historic agreement on constructing the country's first high speed rail corridor linking the 505 kilometre distance from Mumbai to Ahmedabad at an estimated cost of Rs 988,050 million ($18.6 billion). The contract was signed on Saturday in the presence of Prime Minister Narendra Modi and his Japanese counterpart Shinzo Abe.
Addressing a joint press conference with Abe, Modi said that the Japanese premier's "extraordinary package of approximately $12 billion on easy terms and technical support for the project was greatly appreciated". The Japanese loan has been offered on a 50 year plan with a 15 year moratorium on repayment at an interest rate of 0.1%
Describing the high speed agreement with Japan as a "historic decision" that would scale up rail operations in India, Modi said that "no friend would matter more in realising India's economic dreams more than Japan". He described Abe as a "personal friend and a great champion of India-Japan partnership".
Welcoming the signing of memoranda on technological cooperation in the railways sector, the two PMs noted in a joint statement that India's rail modernisation and expansion plans open up commercial opportunities for Japanese companies in high speed rail, station re-development and rolling stock manufacturing.
In its feasibility report submitted in July, the Japan International Cooperation Agency (JICA) indicated to a seven year construction plan (2017-23) for the high speed corridor that will reduce travel time between the two cities from the existing seven and a half hours to two hours flat.
Tickets are expected to be priced one and a half times higher as compared to the AC-I fares of the premier Rajdhani trains, officials said.
The Japanese "tied loan" for the project comes with the precondition that 30% equipment will be purchased from Japanese firms.
JICA has recommended that the project be taken up on the internationally accepted Standard Gauge instead of the existing Broad Gauge.
Once the line is built, travel distance between the two cities will be reduced from the existing seven and a half to two hours flat, with 12 train stoppages with maximum stoppages of 2 minutes each at Surat, Vadodara and Ahmedabad.
Personalise your news feed. Follow trending topics