Jayalalithaa acquitted in graft case, celebrations erupt in AIADMK camp
The Karnataka high court acquitted on Monday former Tamil Nadu chief minister and AIADMK supremo J Jayalalithaa in a corruption case. Jayalalithaa had appealed against her conviction in the Rs 66.64-crore disproportionate assets case by a Bengaluru trial court, which sentenced her in last September to 4 years in jail and slapped a fine of Rs 100 crore.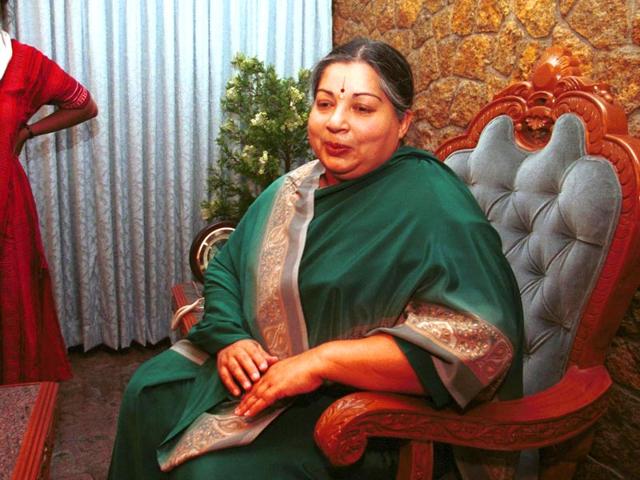 Updated on May 11, 2015 03:22 PM IST
Hindustan Times | By Sudipto Mondal and KV Lakshmana
, Bengaluru/chennai
The Karnataka high court overturned on Monday a trial court judgment and acquitted AIADMK chief J Jayalalithaa and her three associates in an 18-year-old disproportionate assets case.
The order paves the way for her return to power as the chief minister of Tamil Nadu after she was forced to step down in September 2014 when she was convicted by a Bengaluru trial court.
In a statement released after her acquittal, Jayalalithaa thanked the people of Tamil Nadu for "reposing faith" in her and also thanked god for "the gift of people's love".
"It is a victory for justice, defeat for those who had conspired to defame and malign my legacy and the legacy of my mentor MGR," said Jayalalithaa in her statement.
Video: Jayalalithaa's supporters celebrate
Jayalalithaa had appealed against her conviction in the Rs 66.64-crore disproportionate assets case by the special court judge Michael D'Cunha, who had sentenced her to 4 years in jail and slapped a fine of Rs 100 crore.
The AIADMK chief, along with aides N Sasikala, VN Sudhakaran and J Elasvarasi, was held guilty of holding unaccounted for income during her tenure as chief minister from 1991-96 by the trial court.
Her close aide Sasikala and Sasikala's relatives Sudhakaran and Elavarasi were fined Rs 10 crore each.
It was all over in less than three minutes after justice CR Kumaraswamy entered the high court's packed Hall number 14.
Pronouncing the operative portion of the judgement, which ran into 10 volumes and over 900 pages, he said, "Appeal allowed. All charges set aside. All are acquitted."
It took a few moments for Jayalalithaa's supporters and lawyers to regain their composure before they let out a collective cheer inside the court hall.
Police personnel rushed in and tried to contain the celebrations but to no avail. Once outside, they ignored police requests for order and launched into spontaneous celebrations and sloganeering.
Unlike the last time when they had arrived at the special court with sweets and flowers, AIADMK supporters seemed totally unprepared for a celebration. Party workers were seen zooming off in their cars to buy garlands and sweets from the nearby market.
Special public prosecutor BV Acharya said that the prosecution was denied adequate opportunity to present its case.
Reacting to the judgement, Acharya complained, "The prosecution was not allowed to make oral arguments."
Clarifying that the decision to move the Supreme Court was not his alone, he said, "I did not expect this verdict. But so many judgements are surprising."
Normally I didnt expect this verdict, but so many judgments are surprising: BV Acharya to ANI on
Jayalalithaa's lawyer B Kumar was expectedly jubilant and said, "This is a historic judgement. Our faith in the judiciary has been restored."
"The case against Jayalalithaa could not be proved so she has been let off," said Kumar.
"Now, there is no restriction on Jayalalithaa to become the CM."
What next?
There is consensus across party lines in the state that after her acquittal, Jayalalithaa will now be back with a bang. And the AIADMK will now want their Amma in the chief minister's seat as soon as possible.
Speculations are also rife that Jayalalithaa could go for snap polls riding on the strength of the verdict in her favour that smashes the corruption plank raised against her by opposition parties.
"It will be a big blow to all opposition parties," said C Lakshmanan, a professor at the Madras Institute of Development Studies.
"It will be a nightmare for all of them. The AIADMK might have a cakewalk in the 2016 elections. The BJP may not be able to even
imagine a hold in Tamil Nadu in their lifetime unless they completely surrender to Amma," he said.
Rabi Bernard, an AIADMK Rajya Sabha MP and a party spokesperson, said Jayalalithaa will definitely become the chief minister.
"There are only 9 to 10 months to go for elections. The state will go into election mode. Madam will take charge of all election and
campaign activities," said Bernard.
The BJP, despite having little presence in the state was confident that it will emerge as an alternative, was watching closely said the
judgement will be a game changer.
"It would boost the morale of the AIADMK cadres and the public," said H Raja, a BJP national secretary.
"She enjoyed public support when she was chief minister. That is why this judgement will be a watershed judgement in Tamil Nadu
politics.
Celebrations outside Jayalalithaa's residence, Jayalalithaa's supporters dance and burst crackers
'Mother's Day'
Thousands of AIADMK workers and supporters, who had congregated at her Poes Gardens residence since morning, burst fire crackers and distributed sweets seconds after justice Kumaraswamy announced the verdict acquitting Jayalalithaa and her three aides in the corruption case and absolved her of all charges.
Tamil Nadu chief minister O Panneerselvam arrived to meet his party leader at her residence, where many top ministers and party leaders had already congregated since early morning.
"All our prayers have been answered," shouted Shihan Hussaini, a Karate coach who had nailed himself to a cross to pray for the AIADMK leader's acquittal, outside her residence.
"I am not from AIADMK but I am supporting Amma and the good work done by her as a common man. Who does not have cases registered against them? Doesn't Rahul have a case against him and are not Karunanidhi or Raja mired in cases against them," he questioned.
Party functionaries too expressed happiness and said they always had faith in the judiciary.
"The honourable judge has given the best order," said AIADMK spokesperson CR Saraswati.
"For us, today is the Mothers Day," added Saraswati.
Another AIADMK spokesperson Avadi Kumar said, "We are very happy."
An overjoyed AIADMK party functionary said she will now become the chief minister and will remain one for a long time to come.
The outcome was as anticipated, said former finance minister and senior AIADMK leader C Ponnaian.
"It was a clear case of political vendetta and was to fail eventually. And this is what has happened. We have immense faith in judiciary," said the AIADMK leader reflecting the sentiments of thousands of party workers across the state.
With her acquittal in the disproportionate assets case, Jayalalithaa has come out clean in all the 13 cases against her. In September 2001, Jayalalithaa faced a two-year conviction in a corruption case and had to step down after Supreme Court set aside her appointment as CM.
She installed Panneerselvam, a senior minister in her council, as the chief minister till March 2002 after she was acquitted of the charges by the Madras high court. Jayalalithaa could not also contest assembly elections owing to disqualification and had to contest a by-election later.
Read:
Yes, madam: Tamil Nadu CM Panneerselvam makes way for Jayalalithaa
Close Story