Khobragade's maid didn't extort money: Lawyer
The housekeeper at the center of the India-US stand-off never tried to extort money from her employer, Devyani Khobragade, or made any of the other demands as alleged by the Indian government.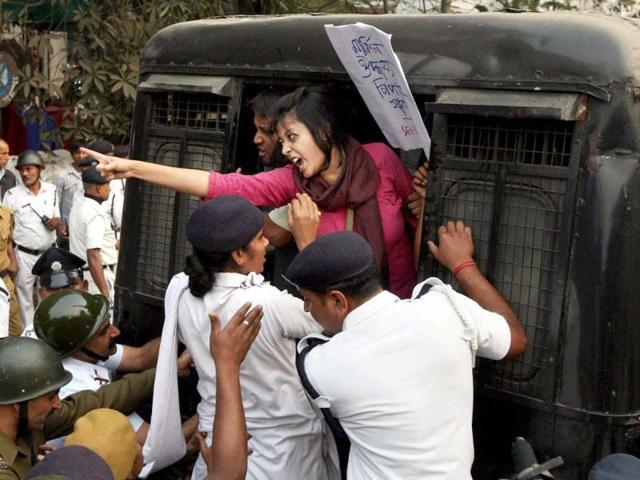 Updated on Dec 21, 2013 12:39 AM IST
Hindustan Times |
, Washington
Yashwant Raj
The housekeeper at the center of the India-US stand-off never tried to extort money from her employer, Devyani Khobragade, or made any of the other demands as alleged by the Indian government.

Sangeeta Richard, the housekeeper, only wanted a better deal for herself—better wages, more time off, and more reasonable working hours. Turned down, she left one day.

"There was no extortion or anything along those lines," her lawyer Dana Sussman told a US news agency.

"She essentially worked very long hours, was isolated within the home, and attempted to ask for more time off, ask for more reasonable hours, but those attempts to resolve the issues were unsuccessful."

Indian government has alleged Richard tried to extort $10,000 from Khobragade, asked to be allowed to work elsewhere as well, and to be given a different passport.

These demands were conveyed to the Indian diplomat first over phone by a mysterious woman who refused to identify herself, and disconnected, when pressed.

Two meetings followed, according to Indian officials, at the offices of a New York immigration services firm. Richard was present at one of them, the officials added.

The Indian government has said Khobragade couldn't meet Richard's demands because she was on an official passport, and could not be allowed to work elsewhere.

And, they have said, if she was not happy with her working conditions or her wages or the atmosphere at Khobragade's home, she could have gone back to India.

That, however, may have ceased to be an option once Khobragade went to court in India and obtained an arrest warrant for Richard, in September.

Richard left Khobragade's residence in New York on June 23.

Sussman said that from that moment on, Richard was on her own, subsisting largely on help from strangers in the Indian American community, including a Sikh Gurudwara.

"She was basically just trying to find her way. She was left with the clothes on her back, with very little money," said Sussman, a staff attorney with Safe Horizon, a New York non-profit that works with victims of trafficking and violence.

It was not immediately known how Richard contacted Safe horizon.

Sussman could not be contacted because she was not available for more interviews, said Safe Horizon. And Richard and her family were not speaking to the press at all.

The housekeeper and Sussman went to the State Department with their allegations subsequently. But it wasn't clear from the published interviews when that happened, possibly late August.

The state department wrote to the Indian embassy in DC on September 4 detailing her allegations and asked them to be investigated. The Indian government has complained that was the only response it ever got from the US to its many communications about Khobragade's troubles with her housekeeper.

Nothing more was heard from the US on this

Khorbagade was arrested by state department's bureau of Diplomatic Security agents outside her daughters' school on December 12, triggering the current stand-off.

Her treatment in the custody of US Marshals Service— strip-searched and held in a cell with criminals while waiting for a court appearance — outraged India.

The response has stunned Richard, who is now staying in the US with her husband and children on "Continued Presence" an immigration status given to victims of trafficking.

"It's quite overwhelming for her (Richard)," said Sussman.

"I think she's been frustrated with the response that somehow has been on the victimisation of the defendant."

'Family evacuated because of threats in India'

Sangeeta Richard's family in India, had to be evacuated to the US because they are alleged to have been facing threats, the state department said on Thursday.
"We are aware of the existence of allegations that the family was intimidated in India." spokesperson Mari Harf said, adding, "Obviously, I can't confirm those. But in general, we take those kinds of allegations very seriously.
The family has said demands were being made on them to bring Richard back to India. They were visited at home in Gurgaon by the police, according to sources.
The news report cited a person close to Richard's family that her husband was once stopped by a man with a gun and told to bring his wife home.
The husband is also said to have complained about getting calls from Khobragade's father, asking him to call Sangeeta Richard home to India.
Without describing the threats, Indian-born US attorney Preet Bharara on Wednesday said, they were brought to the US because,

"This Office and the Justice Department are compelled to make sure that victims, witnesses and their families are safe and secure while cases are pending."

Maid's immigration status: Continued Presence

Sangeeta Richard, her husband Philip and their children are in the US now on "Continued Presence", said Safe Horizon, a New York non-profit working with the housekeeper

What is "Continued Presence"?
It is a temporary immigration status the US provides to individuals identified by law enforcement as victims of human trafficking

How long can it last?
For the duration of the ongoing investigation. It's initially granted for one year, and can be renewed in one-year increments

What does it provide?
Temporary permission to stay and work in the US

What is the purpose?
To create conditions for the victims of trafficking to cooperate with law enforcement agencies to help prosecute the accused successfully
Close Story
Personalise your news feed. Follow trending topics