'Kick them out': HT reporter recounts mob attack outside Delhi court
Updated on Feb 16, 2016 04:09 PM IST
HT's beat reporter following Delhi high court recounts his experience at the Patiala House court where JNU students and faculty were thrown out by a mob of lawyers who also attacked journalists covering the proceedings.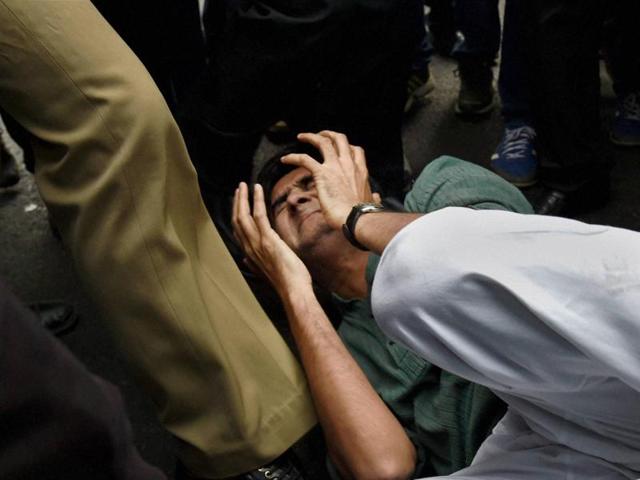 As a beat reporter following Delhi high court proceedings, news of Jawaharlal Nehru University students and faculty being targeted by lawyers inside Patiala House court caught my eye. I was scrolling through the newsfeed on my Twitter account when the news broke around 2.30 pm. A hearing on the extension of police custody of JNU student body president Kanhaiya Kumar, who was slapped with charges of sedition, was to come up.
As my colleague, who covers the trial court, was on leave, I reached the court premises and entered from a back gate. While making my way towards the courtroom of Metropolitan Magistrate Lovleen, who was hearing the case, I saw an agitated mob of about 100 lawyers rounding on someone near the entry gate to the courtroom.
Unable to see what the commotion was about, I stepped onto a nearby elevated green pasture where a few onlookers had crowded for a better look.
Still unable to see clearly, I had taken out my phone to click a photograph when two of the onlookers nearby cautioned me to hide it.
"What are you doing? This has started because of you guys trying to click pictures here. Mobile rakh do (keep your mobile away)," said one of them.
By this time, I could see what was happening: a woman reporter from an English News channel was furiously trying to make a point as a mob of lawyers pushed her towards the main entry gate, all the while hurling abuses at her.
To my surprise, a good number of Delhi Police officials, who were standing barely five feet away, did not intervene even as the mob became more agitated and pushed the woman towards the police security check kiosk near the entrance. Instead, a police officer escorted her out of the main entry gate. I could see the dejection in her eyes.
No sooner had she stepped out of the gate, another brawl broke out inside the complex. The lawyers had resorted to fist blows and kicks to a man in plain clothes.
No one came to his rescue, not even one of the more than 50 police officers who watched him being thrashed by the mob.
At this point I noticed three colleagues, two of them women, standing near the dhabas where reporters usually have tea. Sensing there was unruly elements around and that anyone could be targeted, I made a beeline for them. However, they were already cornered by another mob between two cars. I was barely five feet away and extended a hand to hail them from the side when I was suddenly pushed from behind.
"Who are you? What are you doing here?" said a voice, even as some others from behind began shouting, "Inhe nikalo! (Kick them out)"
Chaos ensued. To avoid a confrontation, I kept silent and walked past the shouting men without reacting and headed straight for the main entry gate. It was unsettling to feel unsafe even inside the court premises where a large number of Delhi police officers were stationed, apparently to protect and keep law and order.
Once outside, I was relieved to see the three reporters who were cornered inside, unharmed. Similar stories began to surface among those of us outside. All were either thrown out by the mob or intimidated into leaving or had escaped being roughed up.
Since mayhem continued, I began tweeting the events.
Lawyers on rampage are not unheard of. Last week, lawyers in Lucknow took matters into their own hands and went on a violent protest after the death of one of their colleagues.
However, in my career as a legal reporter, I have never witnessed the messenger becoming the target. The day will forever be etched into the wall of shame for the legal fraternity.
(This is a first-person account from a HT Correspondent who was forced out of the court premises by the unruly mob of lawyers on Monday)
Personalise your news feed. Follow trending topics