Liquor ban in vogue but Gujarat slammed for poor enforcement
Updated on Jan 31, 2016 05:27 PM IST
Even as most Tamil political parties take a leaf out of Bihar chief minister Nitish Kumar's book to press for a ban on liquor sale, protests have erupted in Gujarat – India's pioneering state in prohibition – over its inability to enforce the dry law.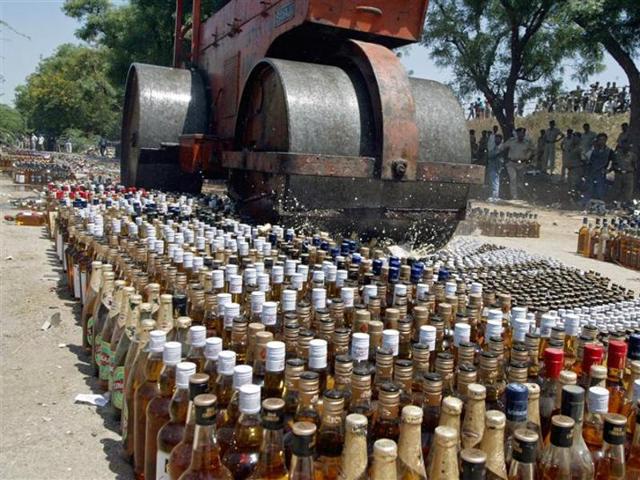 Even as most Tamil political parties take a leaf out of Bihar chief minister Nitish Kumar's book to press for a ban on liquor sale, protests have erupted in Gujarat – India's pioneering state in prohibition – over its inability to enforce the dry law. In fact, the disenchantment has risen to such an extent that leaders of the politically significant Kshartiya and Thakor communities in the BJP bastion of north Gujarat have threatened to look for other electoral alternatives in the 2017 assembly polls unless the rampant sale of illegal liquor is stemmed.
"Make me chief minister for a single day and I will bring an end to this evil," thundered Alpesh Thakor, convener of the Kshatriya-Thakor Sena, at the rally.
There have been many incidents of people turning vigilantes in order to enforce the rule. Recently, the heads of four men found drunk were tonsured by the public in Banaskantha district – sending a clear message to the government that if it fails to enforce prohibition, the people will. Women of the Kutch region surrounded a police station on January 29, alleging apathy in implementing the law. A little away, in the Patan and Gandhinagar districts, local residents destroyed eight breweries.
However, to understand the magnitude of liquor smuggling in Gujarat, one should visit neighbouring Madhya Pradesh's Jhabua and Alirajpur districts – where smuggling of liquor to the dry state has developed into a small-scale industry.
Called "amrit" in local parlance, the smuggling happens through narrow roads connecting villages on two sides of the border. Tribals armed with bows and arrows act as "guides" and "protectors" to escape police detection.
"Hundreds of tribals earn their livelihood by helping smuggle liquor to Gujarat," said a regional transport department official posted in the pre-dominantly tribal district of Jhabua. Most of the smuggling happens through small vehicles that can navigate untarred roads, where police presence is poor.
The extent of the thriving smuggling network can be gauged from the fact that liquor shops in these poor tribal-dominated regions of Madhya Pradesh were auctioned for crores of rupees in 2014-15, bringing them on a par with outlets in posh urban areas.
Local residents say permits that allow transportation of liquor to Daman and Diu through Gujarat also comes handy for bootleggers.
During the 2014 national polls, the election commission seized liquor worth `20 crore in a three-month period. The Gujarat police – on an average – confiscates Indian-made foreign liquor (IMFL) worth `100 crore every year. State home department officials maintained that the bootlegging business may be worth `500 crore, and the law causes a revenue loss to the tune of `2,500 crore. As per the records of the ministry of home affairs, 117 deaths due to consumption of spurious liquor were recorded in the western state between 2012 and 2014.
Bihar will follow in Gujarat's footsteps from April 1, when country-made liquor will be banned across the state in the first phase. Chief minister Nitish Kumar had promised to enact a prohibition law before the last assembly elections, when a large number of women complained that their families were being ruined due to liquor addiction.
The move helped him win around 80% of the seats where women voters outnumbered men, and now Kumar wants them to ensure that the ban is enforced in 8,444 panchayats.
The new excise policy, which comes into effect from April 1, stipulates that while sale of country and spiced liquor would not be permitted, IMFL can be sold only at Bihar State Beverage Corporation counters in the district headquarters.
However, it remains to be seen how the Nitish government goes about banning IMFL. The state's excise revenue had jumped from `525 crore in 2007-08 to `2,765 crore in 2012-13 through Bihar's 5,467 licensed liquor shops. It's a statistic that begs the question: Can Bihar afford to lose all this money?
Meanwhile, the issue has turned into a veritable hot potato in poll-bound Tamil Nadu. Even as DMK patriarch M Karunanidhi vows to effect a liquor ban if voted in, the AIADMK – which currently rules the state – has asked why no such action was taken when the former was in power. In fact, it was Karunanidhi who had lifted prohibition in the state in 1974.
The J Jayalalithaa-led AIADMK has ruled out prohibition, stating that it would be unwise to introduce prohibition when it would cause an annual revenue loss of `25,000 crore and alcohol can be smuggled in from neighbouring states anyway.
The debate will be settled by voters when the state goes to the polls this summer.
However, there are a few lessons to be learnt from Gujarat – which has been under prohibition since its formation in 1960. It is an open secret that the decades-old policy remains merely on paper. Haryana lifted the ban after two years of imposition in 1998, after realising that the rule had created a parallel network of liquor smugglers.
Retired IPS officer Prakash Singh said prohibition usually leads to corruption because enforcing it in states with porous borders is a difficult proposition. "There are better ways to check liquor addiction," he added.
(With inputs from bureaus in Patna and New Delhi)