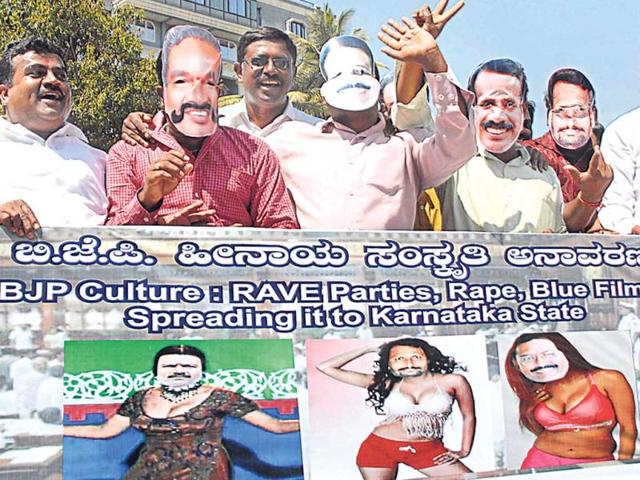 Porngate: BJP got BSY to ask ministers to resign
Three BJP ministers in Karnataka, who were caught on camera watching porn on mobile phone during assembly proceedings, resigned on Wednesday following orders from an embarrassed party leadership. Shekhar Iyer reports. Video | Karnataka ministers watch porn video in House
Hindustan Times | By Shekhar Iyer
, New Delhi
UPDATED ON FEB 09, 2012 10:11 AM IST
The BJP high command told the three Karnataka ministers, accused of watching porn inside the state assembly, to quit, sending a clear message that their behaviour was unacceptable.

As the party's immediate worry was over its fallout in poll-bound UP, the central BJP leadership tasked former state CM BS Yeddyurappa to secure their resignation as they were said to be his supporters.
Yeddyurappa summoned the three ministers in Bangalore on Wednesday morning and reportedly reprimanded them "severely", BJP sources said. Later, they were summoned at a meeting attended by top leaders including Karnataka CM Sadanand Gowda, state BJP president KS Eswarappa and BSY. On Tuesday night, BJP chief Nitin Gadkari had directed Gowda and Eswarappa to initiate action against the three ministers, party sources said.
Though Gowda dodged questions on the BJP offering an apology and left it to the Karnataka speaker for further action, Gadkari said an inquiry would be ordered against the three and "suitable action" will follow the probe.
"As of now, all the three ministers claim to be innocent. However, an inquiry will be ordered into the episode and suitable action will be taken by CM...There is deterioration in all walks of life. Unfortunately, politics has not remained immune to that, " Gadkari said.
Arun Jaitley, leader of opposition in Rajya Sabha, said the party "regretted" the incident.
The opposition Congress and JD-S members in the state assembly had sought their suspension, disqualification and even their immediate arrest.
For ever anxious about his return to the state's top post, Yeddyurappa was very upset that the ministers got into such row at a time when he was working toward his "rehabilitation."
In Delhi, BJP spokesperson Rajiv Pratap Rudy did not mince words. "The national leadership of BJP has taken note of what has happened... Certainly, it demeans the political system. We have no qualms in stating that the resignations have been taken and accepted.... Strongest action will be taken against them." Rudy also denied reports that the ministers are likely to get away lightly as they are close to Yeddyurappa.
Close