Rajnath asks what's the need for religious conversion
Mar 23, 2015 06:50 PM IST
Union home minister's comment at a meeting of state minorities commissions draws criticism.
Union home minister Rajnath Singh on Monday sought to link humanitarian work by religious activists to conversions and highlighted demands for a law against proselytisation.

Singh's remarks, made during a speech at a meeting of state minorities commissions, created a flutter among Christian members of the audience.

He made no mention of continuing attacks on Christian properties across the country but said a solution must be found to issues like 'ghar wapsi', a campaign by right wing groups to convert people of minority faiths to Hinduism.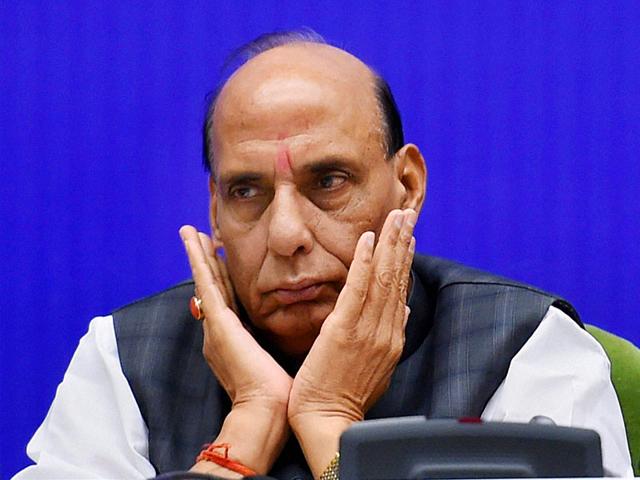 "I want to say this because the national media is present here and it will send a message. Ghar wapsi is creating a wrong impression. But what can be done to solve it? What is the need for conversion?" Singh told the audience comprising representatives from all minority faiths.
"Can't there be service of humanity without religious conversions? After all, God is one, be it Jesus, Ram or Prophet Mohammed," he said.
"I swear on God...that there can be no doubts on my intention. But what is the need for religious conversion?" he asked while appealing for consensus and debate on the issue.

Singh referred to calls for an anti-conversion law and said: "In some countries, minorities are demanding an anti-conversion law. In our country, things are such that we are demanding such a law."
Last month, Rashtriya Swayamsevak Sangh chief Mohan Bhagwat had been criticised for suggesting that Mother Teresa's real motive for charitable services was converting people to Christianity.

Singh said there was an attempt to change India's demography. "Who can tolerate efforts to alter our demography? Can anyone go to America or Europe and change demography there?"
He further said he had always believed that the patriotism of Indian Muslims is unquestionable. "We want to create a sense of security for minorities and remove their sense of insecurity," he said.
Singh said he endorsed the ancient fact that India had always been a country of all faiths. "India's ancient tradition and methodology shows all faiths have existed here. What is the need for supremacy?"
A Christian leader from a northeastern state, who spoke on condition of anonymity, said: "This is the time to reassure Christians, not accuse them. The home minister said nothing on so many attacks on churches."
Video: Follow your religion, yet serve the country, says Rajnath Singh