Sena chief Uddhav tears into BJP, but won't break Maharashtra alliance
Oct 23, 2015 12:48 AM IST
Shiv Sena president Uddhav Thackeray on Thursday mocked the BJP over its pro-Hindu positioning saying it should declare India as a "Hindu rashtra" instead of carrying out campaigns against cow slaughter.
Shiv Sena chief Uddhav Thackeray on Friday made it clear his party will not quit the BJP-led government but slammed the senior ally for a range of issues from price rise and Dalit murders to its "failure" to deliver on the Hindutva agenda.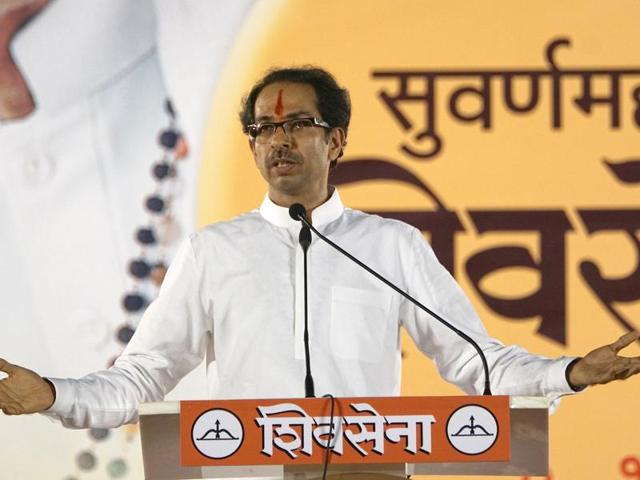 In a 45-minute stinging speech at the party's annual Dussehra rally at the Shivaji Park ground in Mumbai, Thackeray blamed the breakdown of law and order in the country for the Dadri lynching as well as the incident in Faridkot where two Dalit children were burnt to death.
Stay tuned with breaking news on HT Channel on Facebook.
Join Now
"These incidents like Dadri lynching bring shame to the country not the ink attack by Shiv Sainiks on Sudheendra Kulkarni. In Haryana, there is BJP rule, so how did this incident take place where a Dalit family was attacked and two children were burnt alive? And, after such an incident, one of our BJP ministers makes a statement that equates Dalits with dogs." he said.
He cautioned the Centre that incidents like these were "sparks that could lead to a forest fire" and bring down the government.
Read: Sena hits back at Jaitley, says don't need lecture on tolerance
Thackeray also challenged the government to deliver on "real issues" if it was serious about its Hindutva agenda.
"Instead of searching for beef eaters in every house, Why don't you go ahead and declare India a Hindu Rashtra, we will support you. Why don't you implement the Uniform Civil Code?" he said.
Thackeray also mocked the BJP over its Ayodhya Ram temple slogan saying, "mandir yahi banayenge, lekin tarikh nahi batayenge". (We will build the temple here, but won't tell you when ).
Thackeray asked the BJP to stop debating about cow slaughter and to instead focus on the rising prices of pulses and onions.
"We are not able to face the people because of this inflation. They (BJP) must remember that governments have fallen because of price rise. Any more price rise, the government can be in danger," he said.
Thackeray's speech comes amid his party's violent campaigns against Pakistan -- from opposing singer Ghulam Ali's concert to attacking Kulkarni over organising former Pakistan foreign minister Khurshid Mahmud Kasuri's book launch to disrupting the BCCI's talks with its Pakistani counterpart on resumption of cricketing ties -- all of which were criticised by the BJP.
Despite the barbs, Thackeray ruled out quitting the Devendra Fadnavis government, saying he would not break a good "working marriage" as the people had voted them to power with certain expectations.
"Why do you keep asking if we are going to quit the government? We have gone in to work, let us work quietly,"
At the same time, he clarified that this did not mean that Sena would tone down its criticism of the government over issues like price rise.
Thackeray's address was a clear indication of the Sena's strategy for the rest of the government's tenure -- it will keep snapping at the heels of its senior ally without breaking away from the coalition.