Uttarakhand: After HC setback, SC to decide fate of rebel Cong MLAs
Updated on May 09, 2016 12:40 PM IST
The Uttarakhand high court on Monday upheld the state assembly speaker's decision to disqualify nine rebel Congress MLAs, stating that their act of siding with the opposition BJP amounted to defection.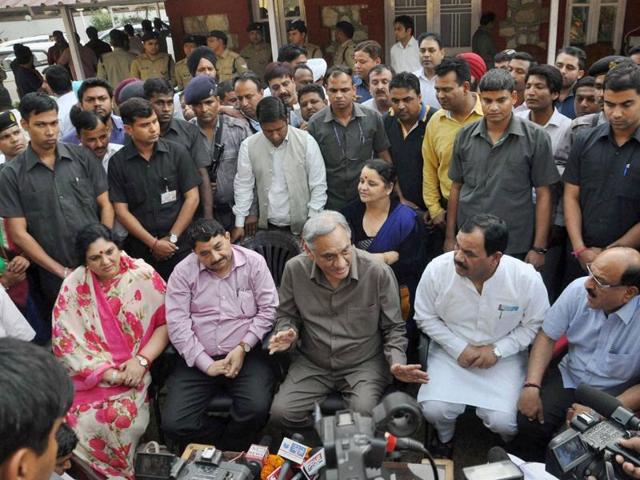 Hindustan Times |
, Nainital
Abhinav Madhwal
The Uttarakhand high court upheld on Monday the disqualification of nine MLAs from the state assembly for alleged anti-party activities, a day ahead of the trust vote for deposed chief minister Harish Rawat.
However, the rebel MLAs approached the Supreme Court for an urgent hearing against the high court verdict. The matter is expected to be taken up at 2 pm.
"We honour the high court's decision, but will mull all the available options till we get justice," Shailendra Mohan Singhal, one of the rebel MLAs, told HT.
"As we anticipated the HC judgment, we prepared in advance to move the Supreme Court... We will cross the bridge when we come to it," said Kunwar Pranav Singh Champion, another disqualified legislator.
If the Supreme Court upholds the high court verdict, the Congress would need the support of just six outside MLAs to prove its majority in a trimmed 62-member state assembly on May 10. While the Congress has 27 MLAs in the changed scenario, the BJP lays claim to 28. The Progressive Democratic Front, on the other hand, has six members – two from the Bahujan Samaj Party, one from the Uttarakhand Kranti Dal, and three independents.
The high court single bench of Justice UC Dhyani pronounced its verdict after hearing the arguments of the rebel MLAs, speaker Govind Singh Kunjwal and Congress chief whip Indira Hridyesh.
Live: Cong-BJP battle over Uttarakhand rebel MLAs reaches Supreme Court
Appearing on behalf of the rebels, senior lawyer CA Sundaram said the rebels were disqualified on the basis of three actions – submitting a joint memorandum with opposition members to governor KK Paul against Rawat, boarding a bus with BJP MLAs, and taking a chartered plane with them to Delhi.
Sundaram replied that the rebel Congress MLAs only wanted Rawat removed, and were not against the Congress party. Though the counsel admitted that they had boarded the bus provided by the district administration with BJP MLAs, he said they did so only in view of the law-and-order situation. He denied allegations that they took a chartered flight to Delhi, contending that it was a commercial one that also happened to be transporting the BJP legislators.
Kapil Sibal, the speaker's counsel, countered the MLAs' contention by pointing out that there was no commercial flight from Dehradun to Delhi after 5 pm.
Speaker Govind Singh Kunjwal disqualified nine Congress rebel MLAs on March 27 for indulging in anti-party activities. Eight of them, barring Vijay Bahuguna, moved the high court challenging the decision.
Personalise your news feed. Follow trending topics