Indore: 22 mins after birth, girl enrolled under Aadhaar
A baby girl was enrolled under the Aadhaar scheme in Jhabua district's Thandla development block just 22 minutes after birth.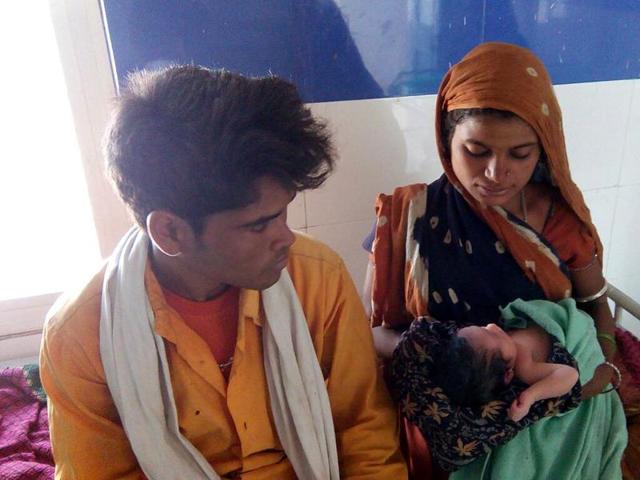 Updated on May 01, 2016 03:26 PM IST
A baby girl was enrolled under the Aadhaar scheme in Jhabua district's Thandla development block just 22 minutes after birth.
The administration aims to enrol every newborn in the district at the earliest so the child and the mother can receive benefits under various government schemes. So, when news of Rakhi's birth at a primary health centre in Khawasa sector reached enrolment officers, they wasted no time. "Whenever we get information from any hospital, a team of experts goes to the respective hospital and takes a picture of the newborn child and completes all the information provided by parents and other relatives. We link the infant's Aadhaar with their parents or guardian," said enrolment officer Hemant Chopra.
Rakhi was born to Ati and Guddu Meda of Ratnali village on Friday evening and the authorities were informed by auxiliary nurse midwife Asha Katare at 7:48pm. Chopra said a team arrived at the health centre at 8:02pm. The formalities were completed and the 22-minute-old girl became possibly the youngest ever to be enrolled under the Aadhaar scheme.
"We are not doing this for the sake of a record. We want to provide benefits of all government schemes to mothers as well as newborns in the district," Anurag Chaudhary, in-charge collector, Jhabua district, told HT. "The initiative helps create awareness particularly among tribal and nomadic communities in this part of the state as a majority of parents are tribals."
In addition to Aadhaar enrolments, the administration is also preparing a database of all pregnant women in the district.
"With all the infants, particularly girl children, getting Aadhaar enrolments, they will get all the benefits of UID as well as other government schemes, including Ladli Laxmi Yojana. Apart from that, the family members will get medical reimbursement and pregnant females and mothers will get maternity leave," said Chaudhary.
Also, enrolment at this young age is far simpler. Children below three years of age are not required to submit biometric information. "However, that child needs to give biometric information when she turns five," he added.
This is not the first time an infant has been enrolled minutes after birth. On April 26, a newborn boy from Makodiya village under Khawasa block was registered 100 minutes after being born at a primary health centre.
Close Story